Black Friday Broken Down By NerdWallet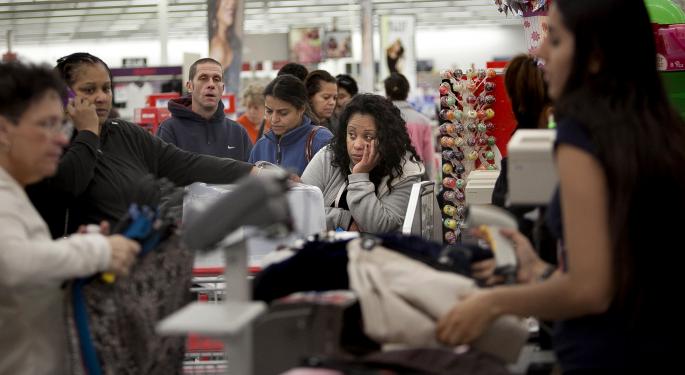 NerdWallet's Courtney Jespersen recently published a piece, "NerdWallet Study Finds Black Friday Is No Bargain, And Americans Still Go Into Debt During Holiday Season," around survey results and research that provides new insights into holiday shoppers' feelings over Black Friday savings, while exposing the marketing tricks that keep costumers coming in with little to no new value.
The survey was conducted online by Harris Poll and paid for by NerdWallet, and also explores how holiday shopping hits shoppers fiscally.
The Battle Of The Savings
The Harris Poll survey shows 81 percent of men shopping on Thanksgiving or Black Friday over 74 percent of women, with 34 percent of men over 22 percent of women asking for price matches through the last six months. Women reported taking roughly 1.4 months to pay off holiday debt, while men said it will take them 2.1 months, Women also said they spend less, with 27 percent of women aiming to reduce spending over 20 percent of men.
"In general, our poll revealed that men are the more opportunistic shoppers. Men are more likely to take advantage of consumer-friendly retail policies and more likely to be optimistic about spending more this holiday season," said Senior Retail Analyst at NerdWallet and lead study analyst Matthew Ong.
"There's a downside here, though, as men will take longer to pay off credit card debt. Women are more likely to pay credit card debt earlier, on average, and have a more responsible attitude when it comes to holiday spending."
Clearing Debt
The Harris Poll survey found that middle-income Americans shoulder holiday debt for longer than low-income consumers. Household incomes from $50,000 to $75,000 tackle around 2.6 months of payments compared to two months to pay off holiday related debt for household incomes beneath $50,000. In general, household incomes of less than $100,000 take more time to pay off their holiday debt at an average of two to three months.
"Those who spend more in an effort to 'keep up' end up paying the price later. Middle-class households could end up in a risky position this holiday season if they have ample credit to make purchases but incomes too thin to comfortably pay the bills later," said Ong.
Related: Film Franchises: The Art Of The Long Game
Repeated Sales
NerdWallet's analysis shows that 25 of 27 Black Friday page advertisements listed one or more products at the same price point in both 2013 and 2014, which boils down to 93 percent of retailers repeating Black Friday sales products and prices from last year. It also turns out that the prices aren't very special, with many of the same deals reoccurring in other sales during the year.
"When you walk into a store on Black Friday, you can't have the mindset that everything you see will be a good deal. Sure, there are a handful of impressive Black Friday deals this year, but many big-name retailers are essentially serving up the same products at the same prices year after year," said Ong.
"That's not exciting for consumers."
Jason Papallo had no position with the mentioned entities while writing this article. Visit Jason on Twitter at @JasonPapallo.
Posted-In: Black Friday Courtney Jespersen Matthew Ong NerdWalletRetail Sales Hot Media Best of Benzinga
View Comments and Join the Discussion!