W.P. Carey: How 5 Acquisitions Can Tell A Compelling Story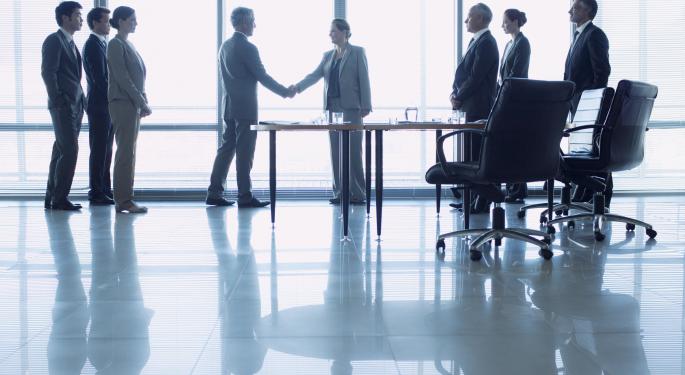 A quick look at five acquisitions will show investors how a mission critical real estate strategy can lead to solid operating results.
W.P. Carey Inc (NYSE: WPC) is a focused, methodical, single-tenant net-lease REIT. The company announced on Tuesday the closing of four "one-of" acquisitions in the United States on behalf of its CPA: 18 Global non-traded REIT.
This follows on the heels of a similar announcement on November 18 of W.P. Carey's acquisition of a $43 million Alliant Techsystems Inc. Office and R&D laboratory facility for the CPA: 18 Global portfolio.
Although these assets do not show up on the W.P. Carey corporate balance sheet, investors will benefit from fees generated by these transactions, which are both accretive to earnings and non-dilutive to existing shareholders.
A Solid Business Model
Recent headlines regarding the rapid growth and accounting mishaps at American Realty Capital Partners may have put a negative spin on publicly traded REITs that also earn income by managing and acquiring properties for non-traded REITs they control.
A recent Benzinga article compared the similarities and differences between the ARCP and W.P. Carey and explains the triple-net lease business model basics.
Tale Of The Tape
W.P. Carey has a track-record of delivering excellent returns for its investors, a trait shared with sector peers Realty Income Corp and National Retail Properties, Inc.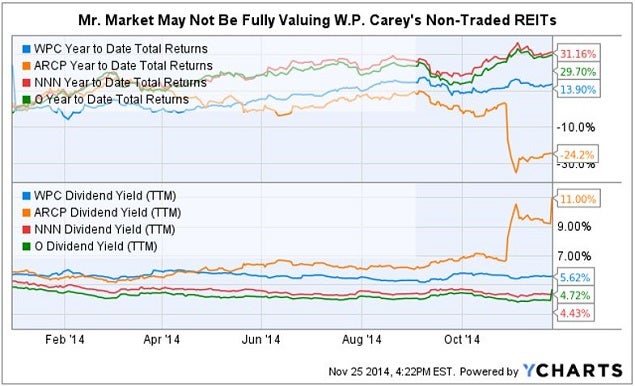 A major differentiator between W.P. Carey and the rest of this sector is that CEO Trevor Bond does not compete for U.S. retail assets such as restaurants, drug stores and convenience stores.
However, it is notable that Bond does see opportunities in Europe for acquiring retail assets under more favorable lease terms.
The total cost of the four acquisitions, which include properties located in Minnesota, Michigan, Georgia and Texas, was approximately $45 million.
Cooper Tire & Rubber Company – Warehouse/Distribution Facility
The 653,000 square-foot facility, located in Albany, Georgia, is leased to Cooper Tire & Rubber Co for a remaining period of approximately 10 years. Cooper Tire and its family of companies currently operate nine manufacturing facilities and 40 distribution centers in 11 countries, employing more than 13,000 people worldwide.
Midcontinent Independent System Operator, Inc. (MISO) – Office and Operations Center Facility
Totaling 60,000 square feet, the property is leased to Midcontinent and has a remaining lease term of approximately 11 years. Midcontinent is a not-for-profit, member-based organization that administers wholesale electricity markets for its 49 transmission owners and 96 non-transmission owners across 15 U.S. states and the Canadian province of Manitoba.
USF Holland Inc. – Build-to-Suit Truck Terminal
The 59,000 square-foot terminal, situated on 22 acres in Grand Rapids, Michigan, will include a 40,420 square-foot dock building, a 6,500 square-foot office building and a 12,000 square-foot shop building. Upon completion, the facility will be leased to USF Holland for an initial term of 15 years.
Barnsco, Inc. – Five Industrial Facilities
The five industrial facilities, totaling 128,000 square feet, are located in Dallas and Fort Worth, Texas, and are leased to Barnsco for an initial term of 15 years. The assets are industrial facilities used for the storage, distribution and manufacturing/assembly of construction components.
W.P. Carey Managing Director and Co-Head of Global Investments, Gino Sabatini, stated: "The closing of these four transactions… demonstrate[s] our ability to leverage our credit and real estate analysis capabilities to underwrite build-to-suit transactions and not-for-profit enterprises, as well as underwriting more traditional corporate net-lease transactions. All four investments include assets critical to the operations of each tenant and are supported by established operating entities."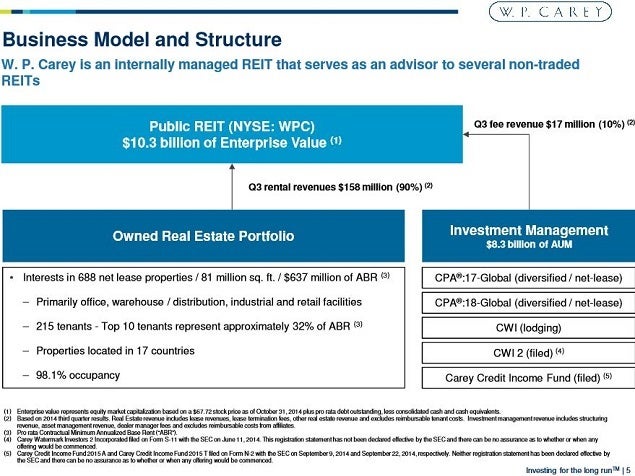 These five November 2014 acquisitions are all on behalf of CPA: 18 Global. The fee income received by W.P. Carey adds an additional 10 percent to the revenues, which are generated by the net-lease properties on the balance sheet.
In January 2014 the assets of the former CPA: 16 were merged into W.P. Carey. These non-traded REITs also can provide a pipeline for future growth.
W.P. Carey has increased its dividend 45 percent since its conversion to a public REIT.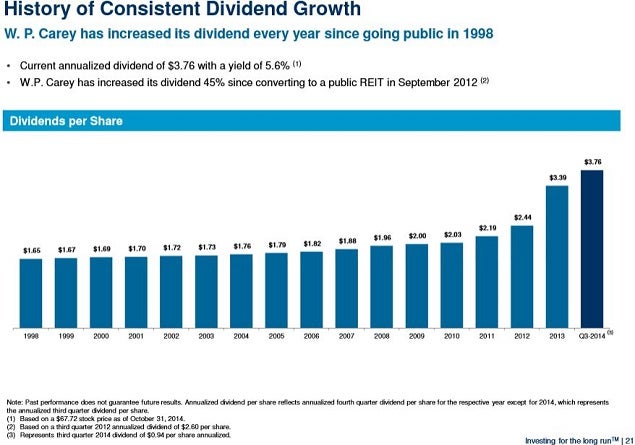 Bottom Line
W.P. Carey has a four-decade history of delivering shareholder value through a non-traded REIT model. The company sources deals globally and underwrites them individually.
Investors looking to "get rich slowly" could take a long look at the unique way this single-tenant build-to-suit and sale-leaseback specialist orchestrates its growth.
Posted-In: non-traded REITsREIT M&A General Real Estate Best of Benzinga
View Comments and Join the Discussion!