IntraLinks Research Study Challenges Conventional M&A Wisdom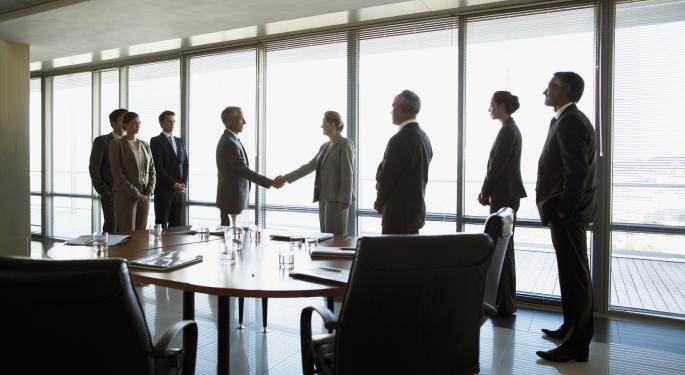 IntraLinks Holdings Inc (NYSE: IL) in association with the M&A Research Centre at Cass Business School, City University in London, just released a study titled "Masters of the Deal: Part 1."
The study identified the drivers of shareholder value from M&A activity by drawing from 20 years of M&A activity data for 25,000 global companies.
Speaking with Benzinga from London, IntraLinks Vice President of Strategy and Product Marketing Philip Whitchelo noted the conventional M&A "mantra" that sellers were winners and acquirers were losers.
That notion, Whitchelo said, grew from the fact that most studies have looked at individual deals at about the time the deal was announced.
By examining data over a 20-year period, he said that conventional wisdom broke down.
Related Link: Online M&A Dealmaking Grows, Fueled By IntraLinks DealNexus
Acquire Early And Often
One surprising finding related to young companies (less than 3 years old).
Young companies as a whole have tended to underperform the market by 5.6 percent per year during their first three years.
Those that announced six or more acquisitions during that time, however, outperformed the market by 3.8 percent per year.
M&A Inactivity Equals Underperformance
Companies that were inactive (no acquisitions or divestments) underperformed the market during those periods of inactivity.
The study found that when compared with companies that announced one to two deals per year, inactive companies created shareholder returns that were 3.2 percent lower.
Frequent Acquisitions Boost Performance
The study found that companies that announced one to two acquisitions per year outperformed the market by 0.1 percent. When the number of acquisitions jumped to three to five, outperformance rose to 2 percent per year and when companies announced six or more acquisitions per year they outperformed the market by 3.4 percent.
"If you're doing more frequent M&A," he said, "you're signaling something to the market … you're signaling growth."
In addition, Whitchelo added, "The more you do M&A, the better you become at it."
Divestment Moderation Is Key
Considering divestment activity alone, companies only outperformed the market during periods when they announced a limited number of divestments.
Specifically, total shareholder return during periods when companies announced one to two divestments was 2.3 percent per year above the market.
Companies that announced three to five divestments, however, underperformed by 3.3 percent and those that announced six or more divestments underperformed by 3.6 percent per year.
Like Pruning The Garden
In addition, Whitchelo said, only medium-aged and mature companies (those that have been publicly listed for three to nine years and 10 or more years, respectively) outperformed the market when announcing one to two divestments every three years.
"It's like in the garden, isn't it? You might need to prune to make sure things are healthy," said Whitchelo.
Related Link: IntraLinks' Deal Flow Predictor: Positive M&A Momentum Will Continue
More To Come
According to Whitchelo, "Masters of the Deal: Part 2," to be released in 2015, would focus on a group of outperformers called "Elites."
The Elites, Whitchelo said, represent about 5 percent of the 25,000 global companies in the original sample.
This report, he said, would name names, identify what's special about those companies including characteristics of the way they do deals and what type of deals they do.
At the time of this writing, Jim Probasco had no position in any mentioned securities.
View Comments and Join the Discussion!
Posted-In: comments IntraLinks Holdings Phillip WhitcheloM&A News Markets Best of Benzinga