Robots Are Coming To Retail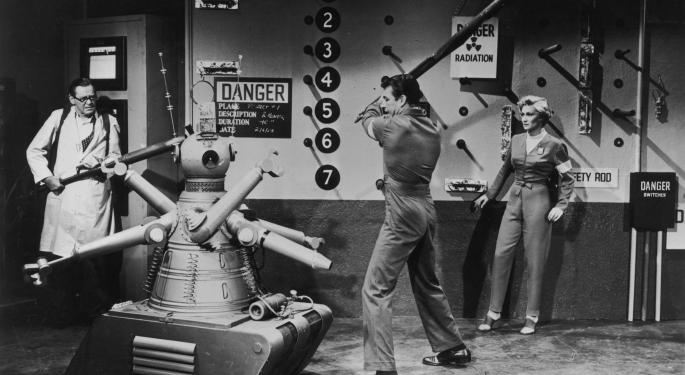 Anyone walking into the Lowe's Companies, Inc. (NYSE: LOW) owned Orchard Supply Hardware store in San Jose, California later this month might be greeted by OSHbot, a robotic shopping assistant, according to the company.
OSHbot will ask customers if they need help and, if so, guide them to the right department in the hardware store.
Related: The Future Of Shopping Has Arrived And Its Name Is OSHbot
First Of Its Kind
According to The Wall Street Journal, the "first of its kind" five-foot tall white robot utilizes natural-language-processing technology and houses two large rectangular screens (front and back) for conferencing with a store expert and for in-house advertising.
A 3D scanner in the robot's head will help customers identify items and the machine was designed to converse in both English and Spanish. Other languages are expected to be added later.
The video below describes how OSHbot works.
Who's Next?
Now that Lowe's has opened the door, so to speak, who in the retail space will follow? And to what degree?
According to the International Federation of Robotics, between 2014 and 2017 more than 400 public relations robots, like Lowe's OSHbot will be sold and put to use.
While those are not groundbreaking numbers, they represent the tip of the robot iceberg.
McDonald's
Thanks to pressure from competitors like Chipotle Mexican Grill, Inc. (NYSE: CMG) and Yum! Brands, Inc. (NYSE: YUM), McDonald's Corporation (NYSE: MCD) has had to search for more ways to save money and boost its bottom line.
One big cost factor has been labor.
Protests, strikes and legal rulings have not helped McDonald's in that arena.
Forbes suggested that one solution could be to install robot cooks. For now, though, the extent of anything remotely robotic at McDonald's has been confined to digital touch screen kiosks in Australia.
However, as Forbes said, it remains to be seen whether robots will replace cooks at the world's largest fast food chain.
Nestle
Engadget reported that Nestle SA (OTC: NSRGY) bought 20 of Softbank Corp's (OTC: SFTBF) Pepper robots to use as public relations droids in Japan.
According to the website, if the trial is successful, the company could eventually have as many as 1,000 units.
Related: Don't Be Scared, But Robots Are On The Verge Of 'Revolutionizing' Manufacturing
Hointer Beta Store
In a move sure to be copied by other clothiers, the Seattle-based Hointer lets customers shop quickly and efficiently using just their smartphones and the store's steel cable robotic system.
Customers select clothing in their size, which is deposited in their dressing room in about 30 seconds -- no human interaction required.
At the time of this writing, Jim Probasco had no position in any mentioned securities.
View Comments and Join the Discussion!
Posted-In: Chipotle Mexican Grill Engadget Forbes Inc. Lowe's Companies McDonald's Corporation Nestle SATech Best of Benzinga