Here's Why Swift Energy May See A Bounce In Stock Price
Swift Energy Company (NYSE: SFY) has been in a slow but steady decline to the downside. The equity has lost 50 percent of its value on a year-to-date basis. It has also lost 60 percent relative to its sector and approximately 70 percent relative to the S&P500.
This is in an environment where the energy sector has been on a tear to the upside.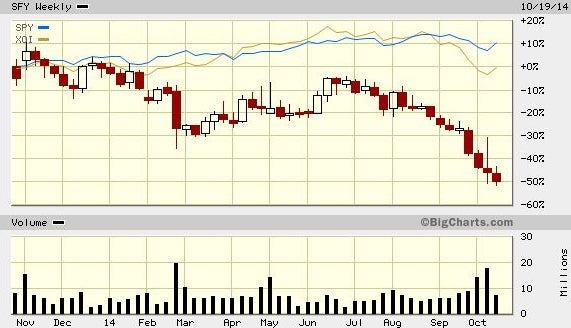 Enter The Activists
Barker Street Capital, LLC, a 9.99 percent owner of the outstanding shares in Swift Energy, released a letter on October 16 in which they make a rather bullish case and, at the same time, reprimands current management on destroying Swift Energy's market valuation.
The letter stated, "We believe that the market price of Swift shares fails to reflect the intrinsic value of the Company's assets, which we estimate to be over $15 per share."
Baker Street further chided the company for creating an environment where there has been a loss of credibility in the company's management.
"This loss of credibility is evidenced by the fact that Swift trades at approximately 1/3 of its tangible book value and at one of the largest discounts to stated PV-10 in the Oil & Gas sector."
Baker wants a seat on the board, a renewed focus on shareholder values and to evaluate or entertain a possible sale of the entire company.
DealReporter feels that a sale of the entity is now at risk, as an activist manager may push for a sale of assets and piecemeal parts of the business rather than a complete sale, though this remains to be seen. Zacks has reported that 34.46 percent of the float is sold short--any news with a positive bent may push the equity to the upside.
Swift Energy shares were recently trading down 2 percent at $6.41.
Posted-In: News Rumors Asset Sales Small Cap
View Comments and Join the Discussion!