2014 World Payments Report - A Focus On Non-Cash Payment Systems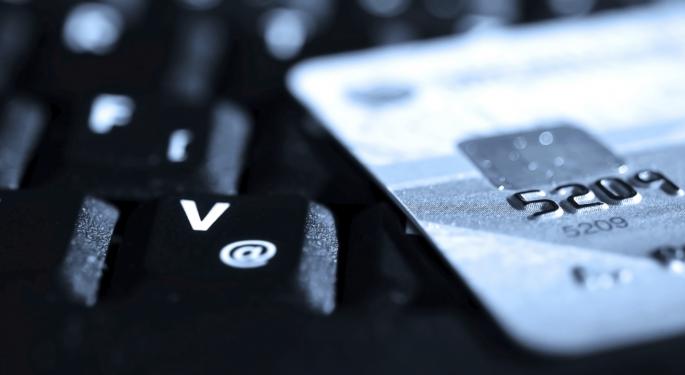 The recently released 2014 World Payments Report (WPR), a joint venture of CapGemini and the Royal Bank Scotland Group Plc (NYSE: RBS), "tracks the state and evolution of the global non-cash payments market."
In other words, the WPR reports on the infrastructure that supports credit and debit cards as well as electronic and mobile payments.
According to CapGemini/RBS, this year's report focused several factors affecting non-cash payment systems worldwide.
Related Link: How Will Apple Pay Affect Peers In Mobile Payments Space?
Growth
Global non-cash transactions for 2013 were predicted to total 365.6 billion, reflecting growth of 20.2 percent in developing markets and 5.6 percent in mature markets.
The driver of non-cash transactions was growth in developing markets. This included both debit and credit card usage growth, as well as a rise in electronic and mobile payments.
Mature Market Volume
Despite the fact growth in mature markets was much less than in developing markets, the sheer volume of mature market transactions eclipsed that of developing markets.
The WPR predicted that a combination of innovation and an increase in the number of mobile payments would drive growth in the mature sector moving forward.
Electronic And Mobile Payments
The importance of mobile and electronic payments as a driver of non-cash transaction growth should not be minimized, according to the WPR.
The growth of that type of payment tied directly to a corresponding growth in the use of tablets and smartphones around the world.
Interestingly, mobile payments were projected to grow at more than 60 percent while electronic payments were forecast to slow down. This was attributed to the fact more people have switched from computers to mobile devices to make payments.
KRIIs
An important factor in the non-cash payments space has been the growth of Key Regulatory and Industry Initiatives (KRIIs).
Through KRIIs, regulators seek to reduce risk, improve innovation, improve security and stimulate competition.
For banks and other payment processors, however, compliance can be a challenge.
Silo-Based To Single Data
In order to comply efficiently with changing regulations, the WPR suggested banks and other payment processors need to shift from what it called a silo-based (contained) approach to a single data (shared) model.
Single data, shared in the cloud would help eliminate duplication, inefficiency and increasing complexity, especially as it could relate to regulatory compliance.
Long Term/Short Cycle
While developing long-term strategies was deemed critical, the WPR said the best route would be to implement short-cycle projects that deliver benefits quickly.
With most payment service providers indicating that both long-term and short-cycle strategies were a priority, connecting the two would provide the quickest route to meeting long-term goals.
Related Link: Royal Bank of Scotland (RBS) Shares Surge on Robust Earnings
Non-Banks
Finally, the WPR predicted that the payment industry would continue to attract more non-banks. This could cause a shift in the role of different stakeholders in the payments market.
Net results could include changes in cost, product mix and business models. This could help create less expensive products and services affecting both consumers and enterprise.
At the time of this writing, Jim Probasco had no position in any mentioned securities.
Posted-In: CapGemini cloud electronic payments mobile payments Royal Bank Scotland Group PlcTop Stories Economics Best of Benzinga
View Comments and Join the Discussion!