Exclusive: Local Motors CEO Jay Rogers Discusses The 3D-Printed Automobile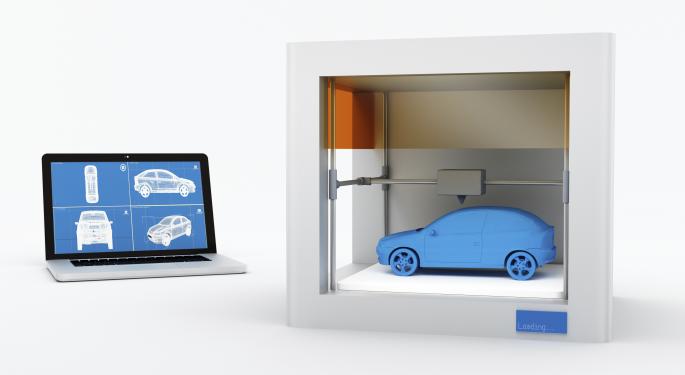 Local Motors made news recently when it created the world's first 3D-printed automobile at the 2014 International Manufacturing Technology Show in Chicago.
Called the Strati (Italian for "layers"), the battery-powered electric car was built over a two-day period. Unlike a normal automobile with 5,000 to 6,000 parts, the Strati has just 49 parts.
Benzinga recently spoke with Local Motors CEO Jay Rogers in an exclusive interview.
Where Vehicles Are Born Different
"Local Motors is a technology company that makes vehicles," Rogers said. "We design, we build and we sell... Perhaps most importantly, all of our vehicles are born different."
Related Link: Local Motors Making World's First 3D-Printed Car
According to Rogers, the "born different" label springs from the fact that the production of Local Motors' vehicles involves "co-creation and micro-manufacturing."
Vehicle Means Any Vehicle
While the current push has been to "productize the process" by which the 3D car was created, Rogers was careful to say it is not about the car. It is about the process, which he noted was designed to be "very low on tooling costs."
"We are a vehicle innovation company," he said, quick to point out that the term "vehicle" is to be taken broadly. Asked if that also meant, for example, motorcycles and boats, Rogers said, "Absolutely."
VIDEO: #Car gets #3dprinted in 45 seconds: http://t.co/jm9WrKgCPm #3dprintedcar

— Local Motors (@localmotors) September 23, 2014
Powertrain Agnostic
While the use of an electric motor to drive the Strati 3D-printed automobile helped with the overall goal of reducing the number of parts, Rogers said the company was "powertrain agnostic."
"If natural gas is your local feed stock," Rogers said, "we can make a vehicle that runs on natural gas."
Reconfiguration
One of the most exciting components to the Local Motors business model is the ability owners have to reconfigure their vehicle as their needs change.
This could involve, for example, recycling the center part of the car and replacing it with something larger.
Rogers said, "The ability to turn a car into a reconfigurable product is incredibly exciting."
Related Link: Autodesk, Local Motors Collaborate On Spark 3D Platform
Economy of Scope
"Our business is not about patenting," Rogers said. "It's about speed to market. It's very much distributed manufacturing."
"That means Local Motors is not about gaining economy of scale," he noted. "The thing we focus on is economy of scope. We built a business where we think we can get people to pay more for a product that is different, more interesting and more advanced."
At the time of this writing, Jim Probasco had no position in any mentioned securities.
Posted-In: 3D automotive Electric Jay RogersTop Stories Success Stories Tech Interview Best of Benzinga
View Comments and Join the Discussion!