Cheapest Gas In 4 Years Likely To Come This Fall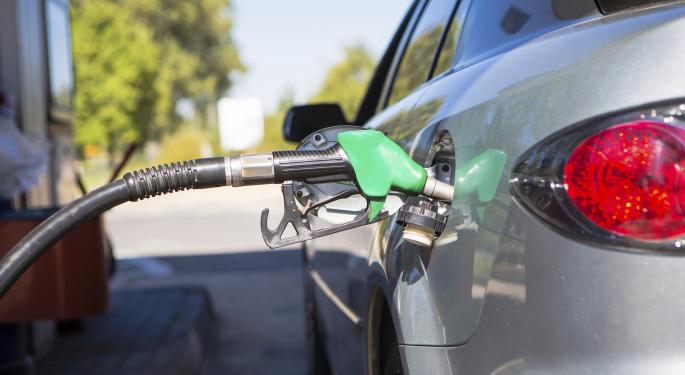 According to GasBuddy.com, Friday's morning benchmark average national price for gasoline in the United States was $3.36 per gallon. That's almost $0.16 per gallon cheaper than the average per gallon price last year.
That is just the beginning.
$3 Per Gallon Gas Still Likely
Doubling down on a prediction made in August, GasBuddy chief oil analyst, Tom Kloza said, "You may not see $3/gal gas if you live in California, New York, Connecticut or Chicago, but we believe that more than 30 states could see prices fall below that number during the Christmas shopping season."
According to Kloza, at least some retailers in 17 states were beating the $3.00 per gallon mark already.
Related Link: $3 Per Gallon Could Be Coming Soon
Four-Year Low
Average prices, GasBuddy predicted, would bottom at between $3.15 and $3.25 per gallon this fall. That's the lowest average price since the autumn of 2010.
Although prices might fluctuate, more than 30 U.S. states were expected to see prices below $3 per gallon on an occasional basis, GasBuddy said.
More Consumer Spending
Cheaper gas prices would likely mean more consumer spending on other things.
Last September, U.S. motorists spent $40 billion on gasoline; this year's bill should be about $2.5 billion less.
That's $2.5 billion available to be infused into other parts of the economy. Retailers preparing for the busy holiday shopping season would no doubt, be delighted with that news.
Why Is Gas Cheaper?
According to GasBuddy, there are three major reasons for lower gas prices this fall:
International crude oil prices are more than $15 per barrel lower than they were in June 2014. Furthermore, North American crude prices range anywhere from $2 to $17 per barrel less than the global (Brent) price, thanks to U.S. production that is at a 28-year high.
In the fall, the "recipe" for gasoline changes to a blend that is easier (and cheaper) to produce. California switches to the cheaper blend October 31. The rest of the United States has already done so.
Demand for gasoline goes down in the fall as summer driving comes to an end. Even if drivers put in the same number of road miles that they did last year, gasoline consumption will still go down about 12 million gallons per day from peak use this past summer.
Related Link: Crude Set To End The Week Below $98
Track Those Prices
GasBuddy provides real-time local gas prices through the GasBuddy.com website and a free GasBuddy mobile app.
The GasBuddy concept is simple. Drivers who are registered with GasBuddy, report prices on an ongoing basis.
Posted-In: Brent crude GasBuddy Tom KlozaCommodities Top Stories Economics Markets Best of Benzinga
View Comments and Join the Discussion!