PayPal Co-Founder Peter Thiel: Facebook Inc. Was Systematically Underestimated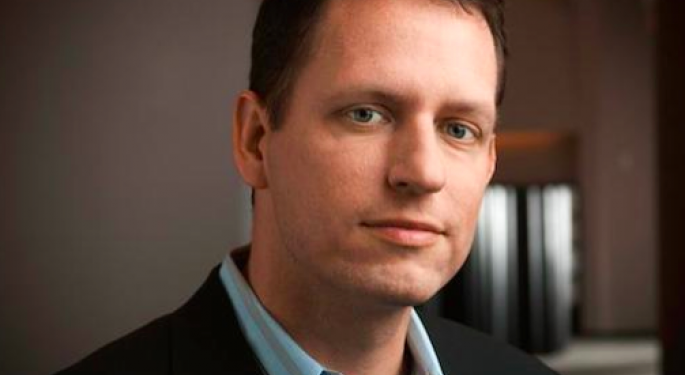 Peter Thiel, the co-founder of PayPal and Palantir, and one of the tech world's most well-known entrepreneurs, was a guest on Benzinga partner James Altucher's podcast this week.
Peter Thiel discussed a wide range of topics, most notably his role as Facebook Inc.'s (NASDAQ: FB) first outside investor.
Facebook's First Investor
In late 2004, Peter Thiel already had PayPal and the multi-billion dollar hedge fund Clarium Capital on his résumé when Facebook entered the picture. After an initial $500,000 investment, he held 10.2 percent of the company and a board seat.
Speaking with James Altucher, Thiel shared his thoughts on the state of Facebook when he jumped on board.
"It was already scaling pretty fast, they were already at 20 colleges, they had 100,000 people," he said. "All they needed was money to buy more computers to get to more users. So, it's generally a rule that when all you need is computers [because you have so much demand], that's a pretty good investment."
Thiel said Mark Zuckerberg and his team were "certainly a group of people that'd been friends at Harvard for quite a while." He said the Facebook team was "technically talented, which was not true of a lot of the social networking sites at the time, and they succeeded in building it in a way that was scalable."
Why Did Peter Thiel Choose Facebook?
So why was Thiel first, and why didn't another outside investor back Facebook before he did?
He said that it may have to do with bias.
"I think people were missing [Facebook] in the 2004-2006 period. One of the biases investors have is always to just invest in things they themselves use," Thiel explained. "And so since Facebook, at the time, was a college site, and basically no investors were attending college, it was systematically underestimated how intense the use case was."
Hear The Full Podcast

In the full podcast, Peter Thiel reveals his thoughts on other subjects, including whether Uber will be a success, how to create the next valuable monopoly, what the characteristics of PayPal were that led to the PayPal mafia and where Peter would put his retirement money.
Posted-In: Facebook James Altucher PayPal Peter ThielNews Entrepreneurship Interview General Best of Benzinga
View Comments and Join the Discussion!