Recent IT Infrastructure Upgrades May Affect FedEx Corporation's Bottom Line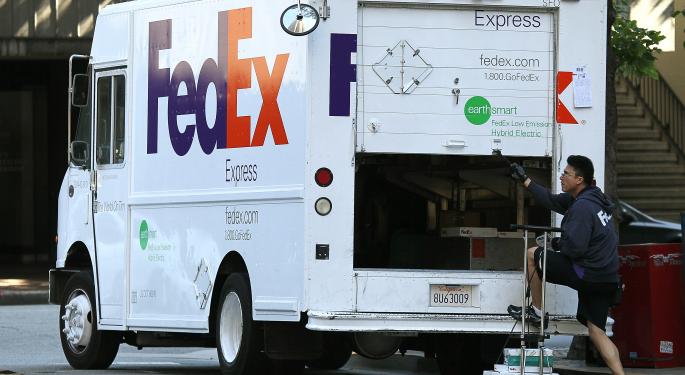 FedEx Corporation (NYSE: FDX) Chairman and CEO Fred Smith will deliver the company's first quarter 2015 earnings report September 17.
The occasion would mark the first opportunity for FedEx to show whether it could stage a turnaround from last year.
The Wall Street Journal named four areas that bode well for the company's bottom line. They included increased demand for delivery services, lower fuel prices, growth in e-commerce and efforts to restructure the company's express operations.
Information Technology
Another area that could affect revenue was the company's plans, announced last year, to ramp up the already underway modernization of its IT infrastructure.
To save money and increase efficiency, the company said it would increase outsourcing of IT and offer buyouts to IT and other employees.
The latest moves were in addition to previous efforts to shift to a service-oriented architecture (SOA) and move data to the cloud.
Related: The ABCs Point To More Downside For IBM
Increased Outsourcing
Another strategy the company said it would employ would be to outsource more work. The plan, according to FedEx CIO Rob Carter, was to have service providers eventually handle 25 to 30 percent of IT needs, versus the 10 percent those providers handled at the time.
The primary change with vendors such as Wipro (NYSE: WIT), Infosys (NYSE: INFY) and IBM (NYSE: IBM) would be giving them more steady work assignments, as opposed to sporadic contracts, Carter said.
Selected vendors would be more involved with ongoing operations of certain IT systems and thereby more willing to invest in staff than in the past.
Employee Buyouts
Up to 3,600 employees, many of them in the IT department, would be offered buyouts. The most lucrative offers would go to those who had worked for FedEx the longest.
The buyout plan was to be done in three waves. The first wave ended May 31, 2013, the second November 30, and the final wave concluded May 31 of this year.
Service-Oriented Architecture
For FedEx, SOA became part of what the company called its "purple core" of IT services. Because each task, e.g., looking up a package recipient's address, is shared with multiple applications, development and support have been made easier and less expensive.
As FedEx Senior VP for Operations IT Eric Keane said, "The big change for developers isn't the thing they do differently; it's the things they don't have to do at all."
Starting with Delivery Manager in 2013, FedEx has continued to develop its SOA as a way to compete with rival UPS (NYSE: UPS) and others in the space.
Related: FedEx Is Saving The Plant, But Blaming The Weather
To the Cloud
Lastly, by moving data and software to a private cloud architecture designed for "general-purpose computing," FedEx expected to gain the ability for servers, storage and network configurations to run all applications rather than one function.
The move to a private cloud actually began several years ago, despite board objections. The results have been impressive.
The company's data center in Colorado Springs, Colorado, consumes only one-third the power originally planned.
An additional advantage has been the discovery that with the Colorado data center built at an elevation of 6,000 feet, the building could be cooled using outside air instead of mechanical air conditioning.
At the time of this writing, Jim Probasco had no position in any mentioned securities.
Posted-In: cloud fedex Fred Smith IBM infosysNews Events Top Stories Best of Benzinga
View Comments and Join the Discussion!