Local Motors Making World's First 3D-Printed Car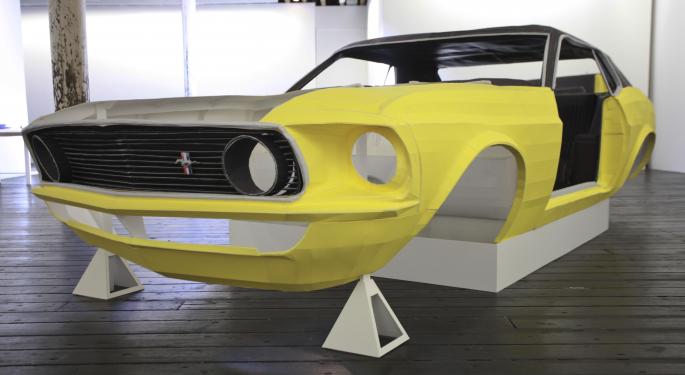 A 3D printed car? Really?
Apparently, the answer is "Yes."
Local Motors of Chandler, Arizona, is printing and assembling the first ever 3D-printed car at the International Manufacturing and Technology Show (IMTS) in Chicago this week.
First of Its Kind
If all goes according to plan, the car, which started printing Sunday, would be finished Friday according to Local Motors CEO John "Jay" Rogers.
"We are the first company to make a 3D-printed car using carbon fiber reinforced thermoplastic. The seats, body, chassis, dash, center console and hood will all be 3D-printed," Rogers said.
The motor, battery, wiring and suspension were not part of the 3D print lineup. Those components would come from a number of suppliers.
The printing process, said to take about 44 hours to complete, can be viewed here:
Related: Will 3D Systems Corporation Become A Major Player In Education?
40 Parts Per Vehicle
The 3D-printed car, called the Strati, has just 40 printed parts. A conventional automobile has more than 20,000.
The vehicle will have a top speed of 40 miles per hour and a range of between 120 and 150 miles, according to The Wall Street Journal.
The plan calls for the car to be driven for the first time Saturday, September 13.
Local Motors said it hoped to commercialize the Strati and offer the 3D-printed cars for $30,000 each within a year.
The Printer
The printer used for the process was the result of a partnership that involved Local Motors, machine tool maker Cincinnati Inc. of Harrison, Ohio, and Oak Ridge National Laboratory of Oak Ridge, Tennessee.
Designed to handle parts as large as three feet by five feet, the printer dwarfs typical 3D printers whose printer beds rarely exceed 10 inches by 10 inches.
Related: Morgan Stanley Remains Confident In 3D Systems Corporation Despite 2Q Dip
Community-Based Design
To allow for customer participation, Local Motors utilizes a collaborative community design process through a network of 40,000 members.
The company already uses that process in the design and manufacture of bicycles, motorcycles and skateboards.
CEO Rogers told The Wall Street Journal, "We're connecting the community to rapid manufacturing and working with 130 countries from three microfactories."
The long-term goal is to open 50 additional microfactories within the next five years.
Ultimately, through the use of 3D printing and the community design process, Local Motors said it wanted to be able to bring innovations to market more quickly than through traditional manufacturing means.
At the time of this writing, Jim Probasco had no position in any mentioned securities.
Posted-In: 3D The Wall Street JournalTech Best of Benzinga
View Comments and Join the Discussion!