Internet Slowdown Day Is Here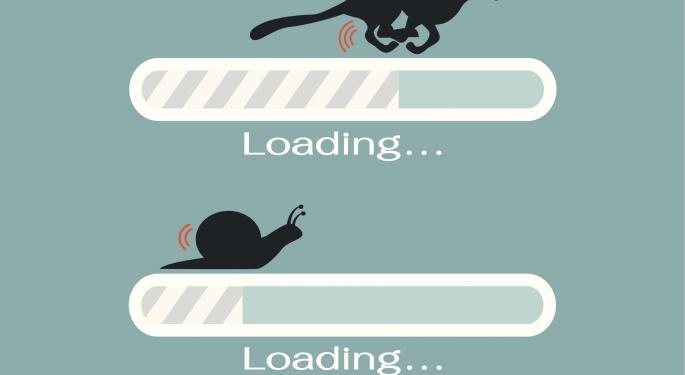 Net neutrality, the principle that all Internet data should be treated equally and that access to that data should be free and unfettered, is the theme behind Wednesday's Internet Slowdown Day.
Many large websites, net neutrality advocates all, have banded together to demonstrate what they believe could happen in the even net neutrality is not protected.
Netflix And Others Feature A "Loading" Symbol
People who access participating websites Wednesday will see a "loading" symbol designed to illustrate the inherent danger of allowing ISPs to violate the sanctity of net neutrality by charging "fast lane" fees to some while others -– those who do not pay a fee –- suffer the consequences of a slow connection.
Among the participating websites are Netflix (NASDAQ: NFLX), Vimeo, Etsy, Reddit, Kickstarter, Foursquare, Mozilla and Meetup.
It's Internet Slowdown Day and we're joining the cause. Our site looks like this. Favorite if you endorse pic.twitter.com/BSVUXXFpeR

— StockTwits (@StockTwits) September 10, 2014
Related Link: Web Giants Sign Net Neutrality Letter, But Apple Is MIA
Battle For The Net
Ground zero for net neutrality advocates is battleforthenet.com, where visitors are greeted with a large "loading" symbol and a banner that reads, "We're in the battle for the net."
ISPs named on the website as among the prime purveyors of high prices, poor service and attempts to violate net neutrality are Comcast Corporation (NASDAQ: CMCSA), Verizon Communications Inc. (NYSE: VZ), Time Warner Cable (NYSE: TWC) and AT&T Inc. (NYSE: T).
Team Cable
According to battleforthenet.com, "Team Cable" has been "… attacking the Internet -- their one competitor and our only refuge -– with plans to charge websites arbitrary fees and slow (to a crawl) any sites that won't pay up. If they win, the Internet dies."
Team Internet
"Team Internet," on the other hand, is comprised of those who "… believe in the free and open Internet, with no arbitrary fees or slow lanes for sites that can't pay."
"Team Internet" includes more than 235 companies, organizations and individuals who have taken a stand in favor of "Title II reclassification," which battleforthenet said was the "only option that lets the FCC stop Team Cable from breaking the key principles of the Internet we love."
Internet Slowdown Day In Action
Visitors to various participating sites were greeted with the aforementioned "loading" symbol and, in some cases, a plea to sign the battleforthenet.com letter to lawmakers.
On other sites -- Netflix, for example -- the message is more subtle, consisting of a small loading symbol in the corner, calling attention to the cause without interfering with the Netflix free trial sales pitch.
Related Link: What's Next With Net Neutrality?
ISPs Defend Themselves
Not surprisingly, none of the major cable providers named featured information regarding "Internet Slowdown Day."
ISPs have said in the past the fees they want to levy would not cause problems or, as some have predicted, lead to the death of the Internet.
A statement posted on AT&T's Public Policy Blog reflects the sentiment of most ISPs.
"AT&T has been committed to the open Internet since our endorsement of the FCC's statement of Internet freedoms in 2004. We worked constructively to help craft the FCC's net neutrality rule, and testified in support of it in the Congress. As the FCC assesses the impact of today's court decision, AT&T can assure all of our customers and stakeholders that our commitment to protect and maintain an open Internet will not change."
At the time of this writing, Jim Probasco had no position in any mentioned securities.
Posted-In: AT&T Comcast Etsy FCC Foursquare KickstarterEvents Top Stories Best of Benzinga
View Comments and Join the Discussion!