The iPhone 6: What Twitter Is Saying About Apple's Newest Phone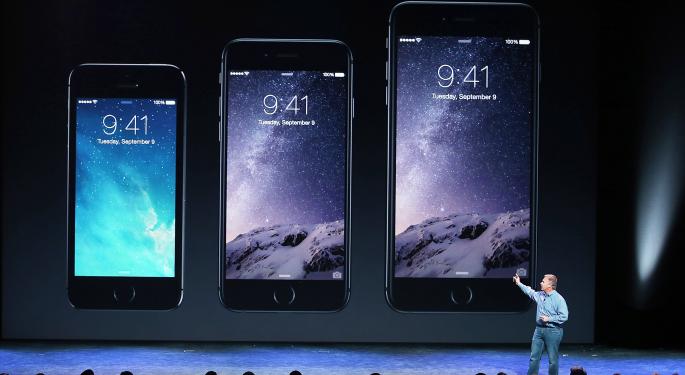 Today's big Apple Inc. (NASDAQ: AAPL) event is in full swing, and the company got the party started by unveiling two new new iPhones: the 6 and 6 Plus.
The latter will start at a price point of $299 with a contract, while the iPhone 6 will cost $199. From a better camera to improved battery life, there's a lot that has the Twitter world talking. Some fans were in a great mood:
BATTERY LIFE IS SO KEY ON THE ROAD, GREAT TO HEAR #APPLELIVE #IPHONE6.

— Mario Testino (@mariotestino) September 9, 2014
#iphone6 looks sweet! pic.twitter.com/Hu8aaLjpoE

— young mark (@youngmark) September 9, 2014
This is probably the single best feature of the new iPhones. #iphone6 pic.twitter.com/cMbWpKq6w3

— Doug Procunier (@HRSDougP) September 9, 2014
#iphone6 looks sleek nice smooth edges.

— Brad Panovich (@wxbrad) September 9, 2014
I'm in. #apple #iPhone6 #byeandroid

— David Weller (@dcweller) September 9, 2014
Apple CEO Tim Cook even got in on the action:
I'm backstage and this is my first tweet from my iPhone 6. It's amazing. You're going to love it.

— Tim Cook (@tim_cook) September 9, 2014
Others...well, they weren't as happy:
So there's 2 models of the #iphone6 One for people with big hands and the other for people with bigger hands.

— Neil (@ImprovNeil) September 9, 2014
"the longest lasting battery" I'll believe it when I see it #iPhone6

— brennanaa (@brennaleigh21) September 9, 2014
the #iphone6 starts at $199 ... including a blood sample, a 10 year contract and the rights to your first born son.

— Nathan Caskey (@nathancaskey) September 9, 2014
Personally I'd feel like I had an overweight #iphone6 if I told people it was a "plus."

— Greg Toppo (@gtoppo) September 9, 2014
Come to think of it, even with all this #iphone6 hype, if the phone data plan is still at 3/4GB limit, what's the point?

— Muhd Zaihar (@Zaihar) September 9, 2014
Well hopefully the #iphone6 works better than Apple's live stream of the event announcing the new iPhone.

— Mitchell Rivard (@mitchellrivard) September 9, 2014
But at least they're having fun:
Relieved the #iPhone6 doesn't spontaneously generate flowers, as widely rumoured. Our business would suffer.

— Arena Flowers (@ArenaFlowers) September 9, 2014
The #iPhone6 is so much taller and thinner... than me! I hate her. Honestly I don't even think that's her real hair.

— Andrea (@AndieTweets) September 9, 2014
I really wish Stefon could be the one describing the new #iphone6 "It's got everything..." pic.twitter.com/xT7bhIRXXo

— Stacey Leasca (@SLeasca) September 9, 2014
Disclosure: At the time of this writing, the author had no position in the equities mentioned in this report.
Posted-In: Apple new phone iPhone 6 social media curationNews Events Tech Best of Benzinga
View Comments and Join the Discussion!