What Investors Need To Know About Cybersecurity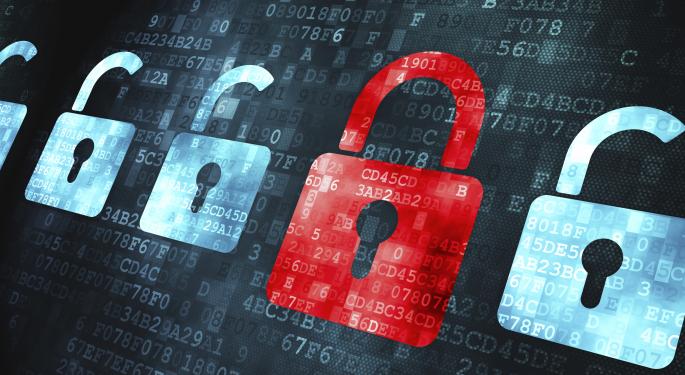 Another day, another hack -- home improvement company The Home Depot, Inc. (NYSE: HD) reported a breach of its online systems and has reportedly hired Symantec Corporation (NASDAQ: SYMC) and Fishnet Security to help determine if any customer information was stolen.
Over the Labor Day weekend social media was in a frenzy over a hacker who had obtained compromising photos of several celebrities, likely pilfered from their Apple Inc. (NASDAQ: AAPL) iCloud accounts. Apple said a systematic attack of its systems was not the cause of the incident.
A few weeks ago the banking giant JPMorgan Chase & Co. (NYSE: JPM) was breached, reportedly by hackers operating inside Russia.
Related link: 3 Cybersecurity Firms To Watch Amid JP Morgan Breach
What does all this mean for investors?
Profiting From Chaos?
In the short-term, cybersecurity firms like Symantec and FireEye Inc. (NASDAQ: FEYE) might profit from the breaches that seem to be occurring more often. The free publicity that some of these companies are getting in the nonfinancial media could bump up the stock price. Indeed, FireEye stock jumped more than 20 percent in the days immediately after the JPMorgan hack was reported.
However, over the long-term the publicity will most likely fade and the direction of the stock will be influenced by the underlying fundamentals of the companies.
For example, FireEye, a relatively new company, is growing revenue but is not yet profitable. Symantec has reported double-digit EPS growth but revenue has basically flatlined over the past few years.
Bad Press Won't Last
Likewise, the bad publicity's impact on share prices for the hacked companies -- Home Deport, Apple, and JP Morgan -- if any -- would be short-term. The fundamentals will still rule for patient, forward-looking investors.
In the case of Apple, all eyes will be on the media event it scheduled for September 9. The tech giant will probably announce its latest iPhone model, and possibly even the "iWatch," the first new product category coming out of Cupertino in more than four years. Since Apple derives the majority of its success from the smartphone and with a potential new revenue source on the horizon, it will important to see what the company unveils.
Bottom line, the highly-publicized hacking incidents might be profitable in the short-term for some investors, but it is more likely that the underlying fundamentals of both the protection firms and the targets of the attacks will influence most investors' returns.
Posted-In: Cybersecurity security breachTravel Tech Trading Ideas General Best of Benzinga
View Comments and Join the Discussion!