The 5 Most Influential Companies In 3D Printing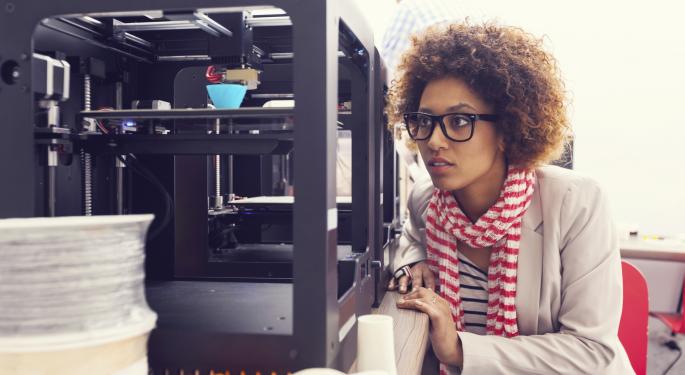 As investors start their look-back at 2014, it's clear that one of the year's biggest business stories has been the rise of 3D printing technology and its related companies.
Despite naysaying by at least one analyst, who finds the market over-hyped, 3D printers have made significant inroads into the plastics industry as well as automotive production.
In fact, according to a new study by the marketers and data journalists at Appinions Inc., the 3D printing market is evolving and maturing rapidly "as attention and influence shifts from the companies that manufacture these amazing devices to a broad range of industries where the technology is finding distribution and practical applications."
Related Link: What Car Brands Will End 2014 With The Best Sales Figures?
Appinions compiled a list of what it considers to be the most influential companies involved in the 3D printing market. Here are its Top Five:
5. Intel Corporation (NASDAQ: INTC)
The tech giant is also making an impact in the world of 3D printing. As part of its 21st Century Robot Project, the company recently unveiled "Jimmy" –- described as an "open source robot that can be printed on a 3-D printer and programmed to do whatever you might like," at a price expected to come in at under $1,000.
4. 3D Systems (NYSE: DDD)
One of the 3D printing sector's trail-blazing firms, 3D Systems isn't resting on its laurels; it's gone shopping.
Last month, the South Carolina-based company announced it had acquired American Precision Prototyping and sister company American Precision Machining. Earlier in the year, according to ValueWalk, 3D Systems bought the imaging product and implants firm Medical Modeling. These acquisitions are only the most recent in a four-year buying spree.
Besides all the M&A, 3D Systems has been busy partnering with Google Inc (NASDAQ: GOOG) on a modular smartphone project that will allow consumers to customize their devices.
3. Stratasys, Ltd. (NASDAQ: SSYS)
The company's strong second quarter earnings, as well as its projections for the second half of this year, "highlights how the 3D printer maker is starting to distance itself from the pack," says ZDNet. Stratasys also had a good head start, as one of the older companies in the 3D sector.
Like 3D Systems, Stratasys has been gobbling up other 3D printer firms. In April Stratasys announced its acquisition of two companies, Solid Concepts and Harvest Technologies. Stratasys CEO David Reis said the move would expand customer offerings, especially in the medical and aerospace fields. Last year, Stratasys acquired Makerbot, a manufacturer of desktop 3D printer systems.
2. Amazon.com, Inc. (NASDAQ: AMZN)
Appinion says Amazon's influence as a retail giant, along with the company's recent introduction of a 3D printed items marketplace, pushed it into the number two spot. Petra Schindler-Carter, Amazon's marketplace sales director, was also ranked by Appinion as the most influential executive.
1. Autodesk, Inc. (NASDAQ: ADSK)
The California-based software company has been involved in 3D technologies and programs for years now. This past May, Autodesk became 3D printing's apparent 800-pound gorilla when it unveiled a 3D printing open software platform and introduced its own 3D printer.
"If anyone can make a quick mark in the field, Autodesk is a likely candidate," Daniel Terdiman noted over at CNET, "given its strong reputation and deep integration throughout the technology industry."
Posted-In: 3D 3D Printing 3D printing market 3D printing technology Appinions Inc.Top Stories Tech Trading Ideas Best of Benzinga
View Comments and Join the Discussion!