6 Rumors About The Apple Inc. iPhone 6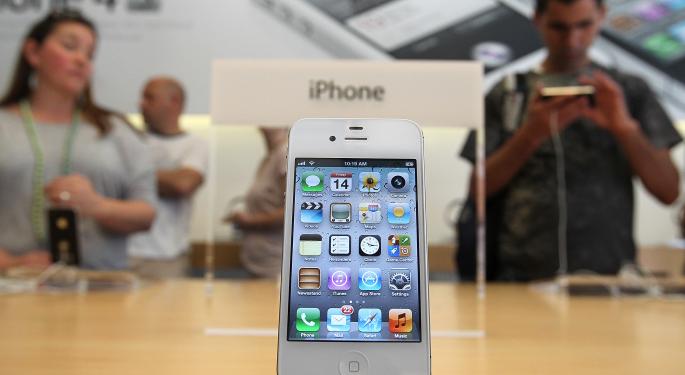 Apple's (NASDAQ: AAPL) long-awaited iPhone 6 is expected to make its worldwide debut on September 9, 2014. The event could prove to be one of the most exciting press conferences of the year, but what will Apple actually deliver?
Notable Battery Boost
Everyone talks about the rumored screen sizes, but an improved battery could help all models of the iPhone 6. Apple is rumored to be replacing last year's battery with one that lasts 15 percent longer than the previous iteration.
That may not sound like much, but it would increase the estimated LTE and Wi-Fi battery times from 10 hours to 11.5 hours.
Related Link: Will Apple's iPhone 6 Charge Wirelessly?
Less Weight, Thinner Design
Once again, Apple is rumored to be making a thinner and lighter iPhone. The Mac maker will reportedly employ advanced LED backlighting to reduce the smartphone's thickness. This, in turn, will allow the company to reduce the device's weight.
The Best Screen Ever?
Report after report promises that, one way or other, Apple will serve up an indestructible screen with the iPhone 6. These rumors sounded too good to be true until a blogger got his hands on a piece of glass that he is convinced will be used for the iPhone 6.
The glass has been stabbed, struck with keys, bent and put through more torture than any smartphone should ever have to endure. Somehow, some way, the screen survived.
More Screen, Less Bezel
Apple successfully built a more compact iPad by reducing its bezel. If the numerous reports are true, the iPhone 6 will likely do the same.
Multiple Screen Sizes
This rumor has been around so long, it feels like old news. Nonetheless, Apple is expected to offer the iPhone 6 in multiple sizes.
Two new sizes -- 4.7-inch and 5.5-inch -- are rumored to be added to the mix. It is unclear if they will replace the current four-inch model or if Apple will continue to offer that size alongside the new iterations.
Want More Power? Buy The Bigger Model
Here's an interesting idea: Apple may cram more power into the largest version of the iPhone 6. The biggest iPhone 6 could be a phablet in the 5.5-inch range, which would make it an unofficial competitor to the iPad Mini.
The iPhone 6 will inevitably cost more than the Mini and could eventually sell more units. Thus, Apple has every reason to do what it can to make the 5.5-inch iPhone 6 the best device it can possibly produce.
Disclosure: At the time of this writing, Louis Bedigian had no position in the equities mentioned in this report.
Posted-In: iPad iPad Air iPad Mini iPhone iPhone 6 phabletTech Best of Benzinga
View Comments and Join the Discussion!