4 Auto Companies Using 3D Printing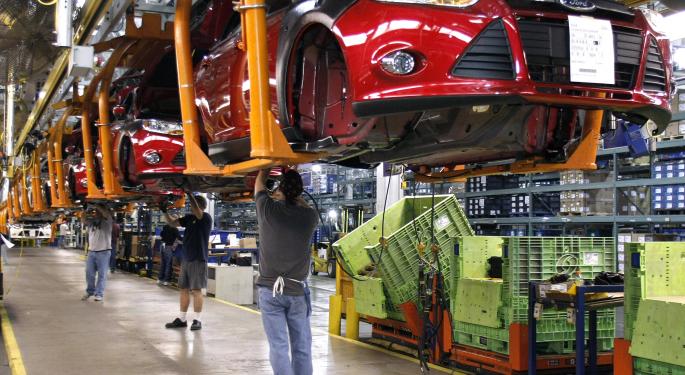 Remember when some experts said the Internet was a passing fad?
Like it or not, 3D printing technology, seen by some as simply a trend, is apparently here to stay. Some sectors, like the plastics industries, are already jumping into 3D printing research and development with both feet.
It appears auto-makers are also looking at how 3D printers can speed up development, design and ultimately production.
Here's a quartet of companies delving into three-dimensional printing technology:
Ford (NYSE: F)
Ford says it was into 3D printing before the concept was even cool –- and in 1988, purchased the first 3D printer ever made.
According to its website, Ford uses 3D printers to produce protoype parts, "shaving months off the development time for individual components used in all of its vehicles, such as cylinder heads, intake manifolds and air vents."
3D printing technology can also save significant amounts of money.
Related: 4 Auto Companies Benefiting From Mexico's Free Trade Agreements
Ford says that with 3D printers, it can now create a complicated prototype engine part in four days at a cost of $3,000 -– compared to the pre-3D printer four-month completion time and a $500,000 price tag.
"For the customer, this means better quality products that also can be weight-optimized to help improve fuel efficiency," Paul Susalla, Ford section supervisor of rapid manufacturing, said in a press statement.
Honda Motor Co. (NYSE: HMC)
Earlier this year, Honda released to the public three-dimensional data for the exterior designs of its concept model vehicles. The company says this data, which can be downloaded from the Honda 3D Design Archives website, is easily replicated by a standard 3D printer.
"3D printing is a revolution already happening, and Honda wants to inspire those on its forefront," the company says in a slick video on the subject. "So we've made files available that enable anyone to print a 3D model of some of our concept cars -– and share in our vision of the art of manufacturing."
Honda says it hopes the project will inspire a new generation of automotive designers and engineers.
General Motors (NYSE: GM)
Engineers at Opel, a General Motors subsidiary, are reportedly using 3D printers to create tools used in the the company's assembly production process.
Meanwhile, GM is also using 3D technology to "dissect" its competition, using light scanners to capture exact 3D images of torn-down Mercedes and other vehicles. Those scans are then made into complete sets, that according to the 3ders.org, are then used to reverse-engineer computer models of those cars to be used in comparisons of similar GM models.
"3-D scanning is a time-efficient and cost-effective way of keeping up with rapid advancements being made all over the industry," Larry Pecar, senior supervisor, GM Competitive Benchmarking, tells the website. "The technology also allows us to gain a better understanding of the reasons for other automakers' recalls so that we are better able to avoid making the same mistakes."
Daimler AG (OTC: DDAIY)
The German multinational has been funding the development of a large volume 3D printing system to be used in auto production.
According to Daimler's partners in the project, the Fraunhofer Institute of Laser Technology and the German company Concept Laser, the system would "replace costly sand-casting and die-casting applications in early phases" of a car model's development – while allowing the testing of future manufacturing techniques that would create lighter weight but structurally-strong vehicles.
View Comments and Join the Discussion!
Posted-In: 3D Printing 3D printing technology automobiles automotive automotive industry carsTech Best of Benzinga