Eric Lefkofsky, Groupon CEO, Paints A Pretty Picture On Groupon's Second Quarter Results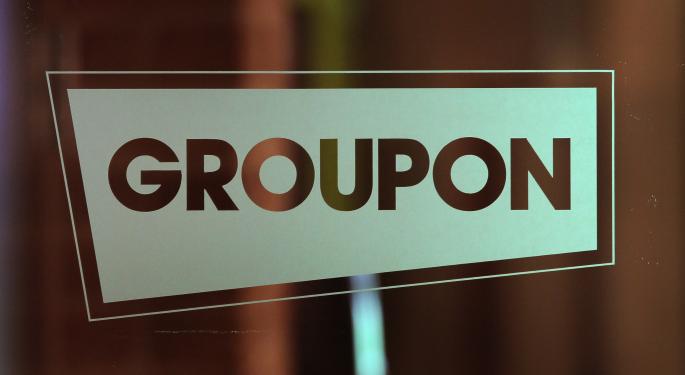 When Groupon (NASDAQ: GRPN) reported its second quarter results on Tuesday, the company reported that its revenue fell short of analyst expectations, as local revenue that comes with higher margins declined 9 percent from a year ago.
Second Quarter Achievements
During Groupon's investor conference call, the company's CEO Eric Lefkofsky focused on many of the positive aspects in the quarter at a time when shares of Groupon were trading lower by more than 15 percent.
"Q2 was another record quarter for Groupon. Gross billings increased 29% to $1.82 billion, and revenue increased 23% to $752 million," Lefkofsky said in his opening remarks. Adjusted EBITDA came in toward the high end of our range at $59 million, up from $40 million last quarter, and non-GAAP EPS was in line with our expectations at $0.01.
Lefkofsky stated that Groupon acted on three primary objectives during the quarter.
First was to reaccelerate local growth in North America and abroad. During the quarter, North American local billings growth reaccelerated in the quarter after two quarters of deceleration.
Secondly, the company had an objective of improving gross margins and operating efficiency in the Goods business. During the quarter the company made significant changes, including shifting more business to drop ship and moving more fulfillment to its own distribution center in Kentucky.
Finally, the company had an objective of achieving stability in international operations and reduce losses. During the quarter, the company reduced the total segment operating loss from $25 million in the previous quarter to $18 million. Lefkofsky stated that he expects further improvements in the third quarter.
Highlights Of New Initiatives
Lefkofsky highlighted two new products that will be expanded on during the coming quarters: Pages and Genome.
Pages creates a web and mobile presence for local merchants that contains useful information including contact information, maps, time of services and a wider variety of discounts. Pages will be rolled out in the coming quarters.
Genome is a new operating system for merchants and "bridges a critical gap" by offering seamless redemption, enabling customers to redeem a Groupon voucher more efficiently. Genome also offers a digital cash register that offers full payment processing solutions. Genome has already been deployed to more than 75 cities in North America with a rollout continuing throughout the year.
The Financials
During the quarter, revenue rose 23 percent to $752 million. North American revenue rose 12 percent; Europe, Middle East and Africa revenues rose 42 percent; and the rest of the world saw its revenue grow 40 percent.
Gross profit rose to $390 million from $385 million last year, while adjusted EBITDA fell $21 million to $59 million because of a $30 million increase in SG&A expenses.
Free cash flow was negative $54 million for the quarter, resulting in a trailing 12-month free cash flow of $41 million. The company expects free cash flow to pick up "materially" in the back end of 2014, as it did in 2013.
As of the end of the quarter, Groupon had $868 million in cash and equivalents after spending $106 million to repurchase 17.2 million shares in the quarter. $118 million remains available in the company's share repurchase authorization.
Notable Quotes
Eric Lefkofsky on Groupon's mobile app: "Nearly 92 million people have now downloaded our app, and by most reports, we are now the most mobile large-scale ecommerce company in the world. Yet activations remain behind web, so while people are engaging with Groupon through their mobile devices, we have yet to optimize the customer experience. Each quarter, we make progress, and we're inching our way closer to parity over time."
Eric Lefkofsky on how Groupon is behind where it should be: "Local and mobile are converging. Local is all about geography, and mobile is all about proximity. Both are intertwined, which is why our mobile business has grown so fast. That said, we have yet to truly deliver on the vision of Groupon, the vision of a world where all merchants and consumers are connected in real time, through a network that allows every merchant to attract the very best customers and allows every customer to find the very best deals."
Eric Lefkofsky on 2015 outlook: "And so at the end of the day, we feel very good… Once you have appropriate goods margins, once you have every reason, which we operate, making money, once you have a local business that's growing at healthy rates again, and we'd like to see that low double-digit work its way to 20% plus over time. And so once those things are happening, the business will generate some great leverage, we believe. So that's what we're focused on. We're not here to provide 2015 guidance at this time. We're only here to say that these fundamentals, these ABCs, are in place, and we're making good progress, and if we achieve the goals we set out, we'll set ourselves up for even greater growth in 2015."
View Comments and Join the Discussion!
Posted-In: eric lefkofsky GrouponNews Management Best of Benzinga