Is A Smart Glove The Next Evolution In Wearable Tech?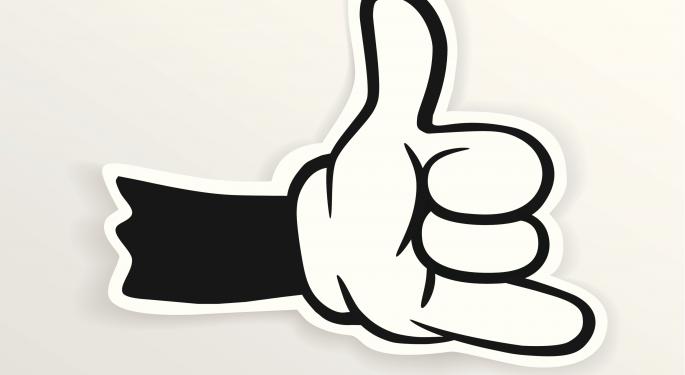 First there were smartphones, smart appliances and smart watches.
Now a couple of young inventors are taking on another smart concept: a smart glove. Others have done the same, but this one -- the GoGlove by Ben Harris and Eric Ely -- was created to solve one simple problem.
"When I was on a mountain and I was skiing, it was such a frustration to deal with [my] phone and [my] music," Harris told Benzinga. "The music was awesome to listen to while skiing, but man, it was such a pain."
Harris and Ely wanted a device that would allow them to easily and seamlessly control their music without having to reach for their phone. They began experimenting with the GoGlove concept and quickly realized that it might be a product that other consumers would want as well.
Related Link: Potato Salad Is The 'Honey Boo Boo' Of Kickstarter Campaigns
Unexpected Challenges
There have been some hurdles along the way. When it came time to launch the product on Kickstarter, Harris had to deal with the challenge of promoting a glove for skiers in July.
"It's a little bit hard to do," he said. "I think timing definitely hurt us a little bit." To compensate, Harris said that he and Ely "really tried to figure out a new design for the module itself so it could double as a warm weather sport assistant."
"Hopefully there is a group of people that are going to want to have an all-year-round product and not just the 10 days that they're skiing," he added.
As of this writing, GoGlove is about $25,000 short of its $50,000 goal. The campaign is scheduled to close 12:15 a.m. EDT on Sunday, August 3.
Harris is not giving up, however. After eyeing the success of the Coolest Cooler -- which returned to Kickstarter this summer after a failed campaign last fall -- Harris intends to launch another campaign if the first one fails to meet its funding goal.
Long-Term Plans
"There's a lot of potential areas that we want to get into, but I think it's important that we stick to the core and we don't stray too much exactly from what the product was built to do initially," said Harris. "Once we get that right, then we really can stretch ourselves into different areas."
For example, Harris envisions a GoGlove that could allow football players to adjust their music while they're warming up. "There [are] other applications where we're thinking about skier safety," he added. "What if you were able to get something like an application for ski patrol or firemen or policemen that wear gloves on a pretty consistent basis, that are able to communicate faster and easier using some sort of glove like this?"
Disclosure: At the time of this writing, Louis Bedigian had no position in the equities mentioned in this report.
Posted-In: Ben Harris Eric Ely GoGlove KickstarterNews Startups Tech Interview Best of Benzinga
View Comments and Join the Discussion!