Don't Expect A New Nintendo Console Before 2018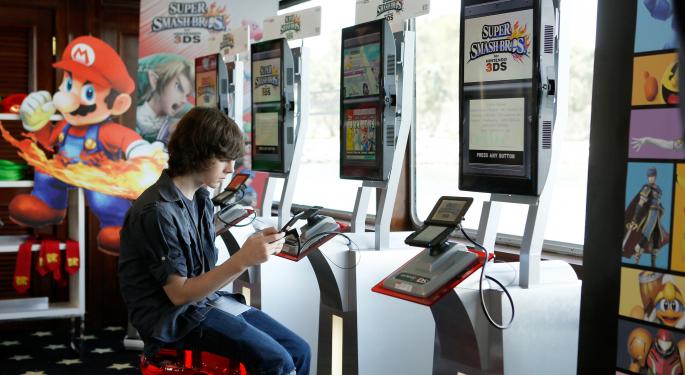 Longer lifecycles could keep Nintendo (OTC: NTDOY) from releasing a new console in the near future.
Up until recently, the Mario maker released a new TV-connected game machine every five years. This tradition ended with Wii U, which arrived in 2012 -- a full six years after the original Wii.
"The gap between the seventh- and eighth-generation consoles has been longer than usual," Juniper Research analyst Eva Hunyadi told Benzinga. "The usual is about five, six years."
Other manufacturers have tried to extend the lifecycles of their consoles as well. Sony, for example, has waited an extra year in between each game system:
Playstation: 1995
PlayStation 2: 2000 (five years later)
PlayStation 3: 2006 (six years later)
PlayStation 4: 2013 (seven years later)
Related Link: Nintendo Promoted 'Mario Kart 8,' Nintendo 2DS With $9.7 Million TV Ad Campaign
Microsoft, on the other hand, released its second console in 2005 -- just four years after the original Xbox, which had underperformed at retail. The company waited eight years before it released another game console.
Similarly, Sega dumped the Saturn (which sold poorly versus competing hardware) a mere three years after its release.
Jumping Ship
Nintendo has never released a console that performed so badly that the company had to jump ship prematurely. If Wii U sales don't pick up, however, investors could expect the company to release a new game system by 2017. Hunyadi said that may not be the case.
"We believe that a ninth generation of gaming consoles will be coming, but we don't see it arriving before 2018 at the earliest," she said. "Rather, we would say 2019."
The Waiting Game
Hunyadi's estimate would mean that Nintendo's next console will come six or seven years after Wii U. This may seem like a long time for Nintendo to support a console that has struggled to keep up with GameCube. Wii U may eventually outsell that console, but its sales are unlikely to match those of Nintendo 64, which sold 32.93 million units.
Regardless, Hunyadi doesn't expect the company to speed up its transition.
"I can't see them years ahead of all the other players," she said. "If they launch their system too early, obviously Microsoft and Sony would see what their device has and what it's lacking and potentially tweak theirs accordingly. I don't think they would give that much of a competitive advantage to Sony and Microsoft."
Disclosure: At the time of this writing, Louis Bedigian had no position in the equities mentioned in this report.
Posted-In: comments GameCube Microsoft Nintendo 64 PlayStation 2 PlayStation 3Rumors Tech Best of Benzinga
View Comments and Join the Discussion!