5 Companies That Just Might Object To 3D Printed Food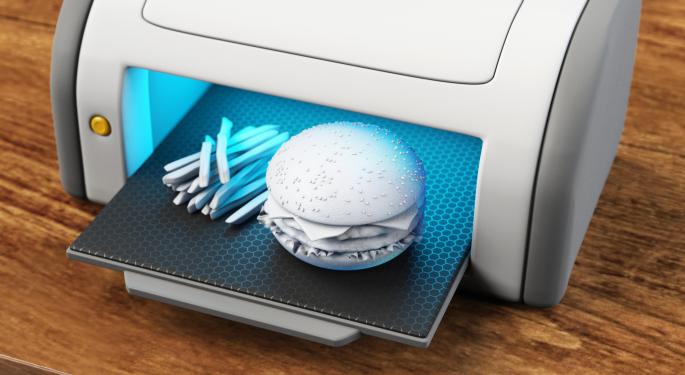 3D printed food hasn't exactly gone mainstream yet, but opponents may already be lining up.
With everyone from the U.S. Army to nursing homes in Germany experimenting with the use of specialized 3D printing technology to "print" realistic-looking food, it's only a matter of time before the naysayers emerge.
Concerns expressed already include the need for Food and Drug Administration approval of specialized 3D food "printers" to avoid bacteria and other harmful effects. But what about actual companies that might find themselves in competition with 3D printed food?
Related Link: 3D Printing Enters The Retail Space At Home Depot
1. Whole Foods Market
A supermarket chain that sells natural and organic foods could suddenly find itself competing with homeowners printing out their own pears, cheese and broccoli made from fresh organic puree.
If it ever got to the point where "printed" food was also cost competitive, Whole Foods Market (NASDAQ: WFM) could be in trouble.
2. Keurig Green Mountain
If consumers could create their own unique flavored coffee concoctions at home, that could seriously hinder Keurig Green Mountain's (NASDAQ: GMCR) ability to continue selling high-priced, exotic, flavored specialty coffee beans.
3. McDonald's
According to The New York Times, it isn't possible to 3D print a steak (yet), but what about a hamburger patty? More importantly, when it comes to hamburger titan McDonald's (NYSE: MCD) and its fast-food cousins, what if people could print their own Quarter Pounder and fries without leaving the house?
4. Ben & Jerry's
Move aside, Cherry Garcia. Unilever's (NYSE: UN) Ben & Jerry brand could face some real challenges if the work of Massachusetts Institute of Technology students turns into a retail product and 3D printed ice cream becomes widely available.
Once again, the issue becomes easy home-based availability of something most people don't take the time to make on their own.
5. Nabisco
Mondelez International (NASDAQ: MDLZ) owns Nabisco, which makes Oreo cookies, a signature consumer product for generations of cookie lovers all over the world.
Mondelez/Nabisco/Oreo may have found a solution to the competition dilemma when it took a different tact at this year's SXSW music, film and interactive conference. Oreo demonstrated its own custom-built 3D printer that created customized frosting designs in Oreo cookies.
The wait in the "cookie" line was three hours (or more) throughout the conference, perhaps an indication that partnerships between companies involved in 3D printing technology and companies leery of that technology might be the win-win everyone has been looking for.
At the time of this writing, Jim Probasco had no position in any mentioned securities.
Posted-In: 3D 3D Printing Keurig Green Mountain Massachusetts Institute of TechnologyTopics FDA Tech General Best of Benzinga
View Comments and Join the Discussion!