5 Most Energy-Efficient Companies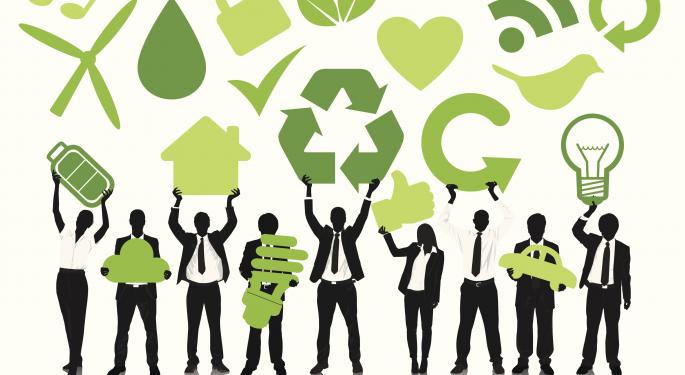 When it comes to energy efficiency, the U.S. is not exactly a world leader. According to the American Council for an Energy-Efficient Economy, America ranks 13th out of the 16 largest economies in energy efficiency.
Lack Of Energy Efficiency Affects The Economy
The Wall Street Journal noted that one reason for this country's low score in energy efficiency was high-energy usage in enterprise. This, report authors said, was a significant factor when it comes to the nation's economy as a whole.
Co-author Sara Hayes said, "Pretty much every facet of an economy needs energy. Countries that waste energy spend more money to produce their goods. Countries that invest in energy efficiency will spend less to accomplish the same goals."
Related Link: Apple And 4 Other Environmentally Responsible Companies
With these factors in mind, here are the top five companies trying to change the energy efficiency landscape based on Newsweek's 2014 listing of America's greenest companies.
No. 1 - Expedia (NASDAQ: EXPE)
Expedia, best known as an online travel company, achieved 97.1 percent energy productivity. Newsweek defined energy productivity as the ratio of a company's revenues to its energy use making it a credible measurable indicator of efficiency in the energy arena.
One way Expedia achieved its high-energy productivity number, according to Stanford University, was through server virtualization, consolidation and software improvements. These upgrades and changes, Stanford said, could increase processor utilization from three to five percent to as much as 80 percent.
No. 2 - Prologis (NYSE: PLD)
With its worldwide real estate holdings, Prologis achieved 93.8 percent energy productivity in the Newsweek rankings.
Prologis entered into a partnership last year that also included San Francisco-based Clean Fund and Johnson Controls to significantly increase energy efficiency at Prologis' world headquarters through building redesign, LED lighting upgrades and a 200kW solar electric system.
No. 3 - Waters Corporation (NYSE: WAT)
Waters Corp. is part of the healthcare sector. The company's high performance instruments are used in clinical trial testing and analysis.
Waters had 92.1 percent energy productivity according to Newsweek. The company's 2012 Sustainability Report outlined an impressive reduction in energy consumed. Heating oil use was reduced by 25 percent between 2010 and 2011, with overall energy consumption per net sales down 12 percent over the same period.
No. 4 - Apple (NASDAQ: AAPL)
Apple achieved 91.8 percent energy productivity in the manufacture of various mobile communication and media devices and computers.
While Apple has employed a number of strategies to reduce energy consumption in the manufacturing process, the company has likely made its biggest advances creating products that are more energy efficient than ever before.
These advances include making the iMac 97 percent more energy efficient than the very first iMac introduced in 1998.
Related Link: 3 Energy Efficiency Stocks Unfazed by Higher Gas Tax Talks - Analyst Blog
No. 5 – Jacobs Engineering Group (NYSE: JEC)
Jacobs Engineering had an impressive 90.8 percent energy productivity rating while providing technical, professional and construction services to industrial clients and government agencies.
Jacobs' 2013 Sustainability Report outlined several areas of interest to the company regarding energy efficiency, including the company's first Real Time Energy Tracker Monitor at its offices in Irvine, California.
At the time of this writing, Jim Probasco had no position in any mentioned securities.
Posted-In: Apple Expedia iMac jacobs engineering group Johnson Controls Newsweek prologisMedia Best of Benzinga
View Comments and Join the Discussion!