5 Of The Coolest 3D Printing Prototypes In 2014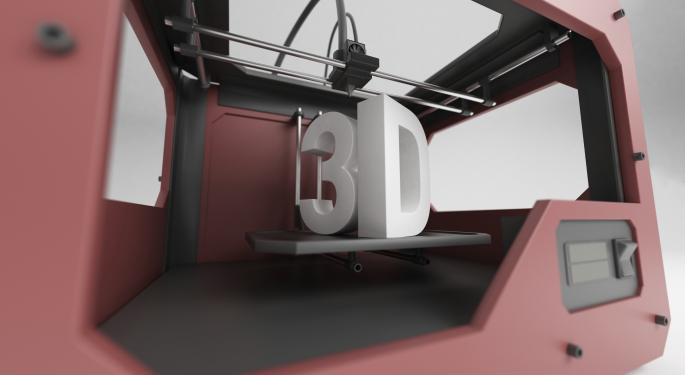 Three-dimensional printers have come a long way in the past few years, providing inventors and entrepreneurs with an endless stream of possibilities.
From goggles and food to toys and chocolate Mustangs, 3D printers can do almost anything.
To celebrate the future of this promising industry, Benzinga has compiled a list of some of the coolest 3D printing concepts and prototypes that have been built in 2014.
Related Link: What Are The Two Most Exciting 3D Printing Stocks?
1. Braille Phones
OwnFone has an interesting idea: It wants to print customizable phones for the vision impaired.
The company's newest phone can have as many as four custom-printed Braille buttons, each of which will correspond to a different number. This will make it easy for the user to quickly dial numbers that they call frequently.
2. Records
Compact discs are great, but some people love vinyl. They happily pay more (and obtain a working record player) to keep the old format alive. Singer/songwriter Bobbie Gordon is one such fan. She's not merely a supporter of the format; she may prove to be its biggest innovator.
Gordon teamed up with Bacardi Beginnings to release an original song on a 3D-printed LP album. The results are far from perfect, but this could be an interesting step forward for the future of music.
3. Anatomy Kits
Cadavers might be useful to medical school students who want to learn more about the human body, but they are not easy to retain and store. Researchers at Monash University's Centre for Human Anatomy Education think they have come up with a cool alternative: 3D-printed anatomy kits.
The school claims that its kits can be printed quickly and easily. Best of all, they don't smell like real cadavers, and they won't deteriorate.
4. Boxtrolls
Stop-motion movies are gorgeous, but they take years to produce. No one knows this better than PES, the king of short stop-motion film production.
Laika, the studio behind Coraline and ParaNorman, is quickly becoming the king of full-length stop-motion features. Its next film, The Boxtrolls, used 3D printers to build dozens of individual molds (including multiple expressions of a character's face).
The results are so good that viewers might not even be able to tell the difference between a handmade character and one that was enhanced with 3D printer parts.
5. Normal
Normal is far from your average 3D printing company. The new startup uses 3D printers to build custom earphone parts that accurately fit the shape of the buyer's ear.
Disclosure: At the time of this writing, Louis Bedigian had no position in the equities mentioned in this report.
Posted-In: 3D printers Bobbie Gordon Laika Normal OwnFone The BoxtrollsSuccess Stories Tech Best of Benzinga
View Comments and Join the Discussion!