Why WWE Network's Free Trial Isn't Necessarily A Bad Thing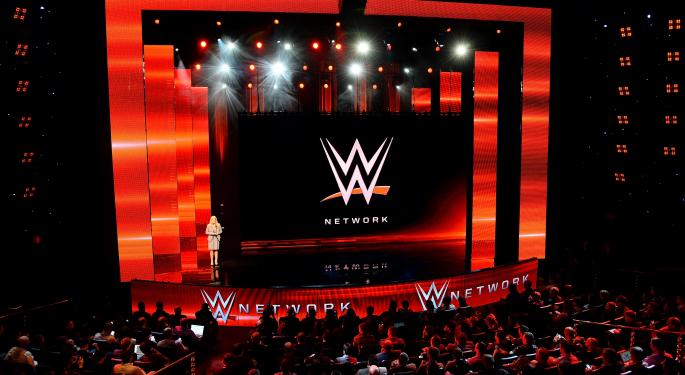 WWE Network (NYSE: WWE) has lost some of its luster after the highs of WrestleMania XXX.
When the event debuted in April, WWE Network became the number-two live streaming site in the United States. As of April 7, the service had garnered 17.7 percent of all live streaming traffic (by volume). It surpassed some of the industry's biggest players, including Ustream (which had 10.9 percent of all live streaming traffic), MLB.com (7.2 percent), and ESPN (6.3 percent).
WWE also announced that its online subscription service had gained more than 667,000 subscribers in six weeks. At that rate, the company was expected to easily reach its full-year goal of one million subscribers.
This success also coincided with a number of free trials, as well as a subscription commitment to sign up for six months.
WWE will announce its current subscriber count at the end of the month. Until then, Qwilt has provided Benzinga with its most recent data on the service.
Related Link: Will Twitch Overtake YouTube And Netflix?
During the week of June 22, WWE Network was the fourth-most popular live streaming site. Twitch maintained its dominance as the number-one site in this category. ESPN came in second (thanks in part to the many World Cup events), while Justin.TV came in third.
Among all streaming video sites, WWE Network could not crack the top 10. During the June 22 - June 28 period, WWE Network proved to be the 13th-most popular service.
Second Chances
WWE Network's apparent decline could be due to an increase in ESPN and Justin.TV streaming, not a decrease associated with WWE. The results could be very different once the World Cup is over.
Even so, WWE is not taking any chances. The company announced another free trial this week, allowing newcomers to join the service without officially signing up. This trial differs from the previous offer in that it does not require users to enter their credit card information.
Hulu offered the same deal (a one-week free trial, no credit card required) to Xbox Live members in 2011. At the time, Hulu had less than one million subscribers. By January 2012, its subscriber base rose to more than 1.5 million paying users.
Hulu's success cannot be attributed to one free trial. But that trial, and other credit card-free offers that followed, seemed to have helped. The company reached five million subscribers in 2013. As of April 2014, Hulu had acquired six million paying customers.
Breaking Even
WWE Network needs 1.4 million subscribers to break even.
Qwilt doesn't monitor subscriber numbers, but Dan Sahar (Qwilt's co-founder and VP of Product Marketing) told Benzinga that he saw a "bump" in WWE Network traffic after the trial began this week.
Disclosure: At the time of this writing, Louis Bedigian had no position in the equities mentioned in this report.
Posted-In: Dan Sahar ESPN Hulu MLB.com Qwilt Twitch UstreamTech Best of Benzinga
View Comments and Join the Discussion!