5 Companies That Should Invest In Normal's Custom-Fit Earphones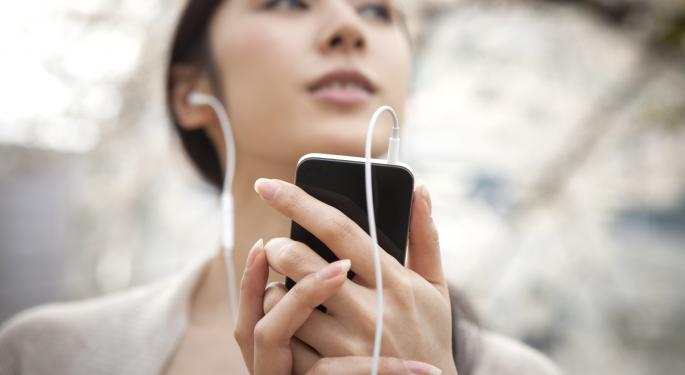 Is Normal the new normal for earphone manufacturing?
If the company's unique concept takes off, it could spawn an entirely new subset within this growing industry.
Unlike Beats Electronics and other one-size-fits-all manufacturers, Normal is a startup with one goal in mind: to produce custom electronics for every customer.
When the company officially launches on August 9, 2014, consumers will be able to order custom-fit earphones that are produced in New York City using a Fortus 250 3D printer. Normal will sell these earphones for $199 (tax and shipping included).
Thus far, only one company (VegasTechFund) has invested in Normal. With so much potential, it's safe to assume that there will be many more enterprises that want to do the same.
Here are five companies that could provide Normal with the capital it needs to change the world of earphone manufacturing.
Related Link: Apple Store Popularity Could Be Dwindling
Apple
Apple (NASDAQ: AAPL) recently paid $3 billion to acquire Beats Electronics, the most successful headphone brand in America.
Some said that Apple could have purchased another, more resilient brand for roughly the same amount of money. Spotify would have cost more, but the company would have delivered 10 million paying subscribers to Apple's streaming music business. Beats Audio can't compete with that.
Normal, on the other hand, could provide Beats with a unique opportunity: custom earphones and headphones.
Imagine a marketing campaign where every Beats-loving athlete promotes the custom units they've received. Suddenly the old, $150 earbuds wouldn't look as cool. Consumers would now want to own the celebrity-approved, custom-built model that sells for $199.
The price might be a bit higher if the Mac maker gets involved. But if anyone can convince consumers to pay the higher price, it's Apple.
Bose
Like Apple, Bose has already invaded dozens of malls across America. Now could be the time for an upgrade.
Not a renovation -- consumers don't need a new coat of paint to lure them into the store. Only quality products can do that.
Imagine a Bose store that can print custom parts for a customer who just purchased a new pair of earphones or even custom parts for those with old earphones? This would allow Bose to serve those who aren't yet ready to throw away an existing unit.
Bose could feasibly copy Normal's format and offer customization all on its own. But it might be wiser to invest in Normal, study how it operates and see if its platform is truly viable.
Facebook
Facebook (NASDAQ: FB) may be a company that will buy anything, but that's not why it should invest in Normal.
Six months ago, a Normal investment wouldn't have made much sense. After purchasing Oculus VR, Facebook began to look like a whole other company.
When it comes to VR development, content (and the way in which that content is presented) is by far the most important element. Comfort is a close second, and it could make or break any virtual reality device.
Normal isn't just an earphone manufacturer. The company will produce a wide array of custom electronics down the road. Facebook could learn from its expertise and build a better, more comfortable (and possibly custom) Oculus Rift.
Related Link: PMDTechnologies' VR Concept Could Make Facebook Wildly Successful
Sony
Sony (NYSE: SNE) could surely benefit from Normal's custom manufacturing.
First and foremost, Sony is one of the world's largest manufacturers of high-end audio products. The company also produces popular low-cost headphones.
Normal could very well help Sony in this regard.
Sony could also create the perfect controller -- from the size and the grip to the weight and the color -- for every customer.
Monster
Most consumers don't realize that Beats' earphones and headphones were more or less created by Monster.
Famous for selling premium cables, Monster teamed with Dr. Dre and Jimmy Iovine to create the Beats by Dre line of products. Beats' savvy marketing was essential to the company's success, but consumers ultimately purchased electronics that Monster conceived and produced.
Monster has tried to compete against Beats since their relationship ended, but it hasn't had much success.
By investing in Normal, Monster could add a new layer of coolness (and uniqueness) that no other major manufacturer currently offers. It could be a winning relationship for both entities.
Disclosure: At the time of this writing, Louis Bedigian had no position in the equities mentioned in this report.
Posted-In: Apple Beats Beats by Dre Beats Electronics Bose Dr. DreSuccess Stories Tech Best of Benzinga
View Comments and Join the Discussion!