Google And Others Join Forces To 'Troll-Proof' Their Patents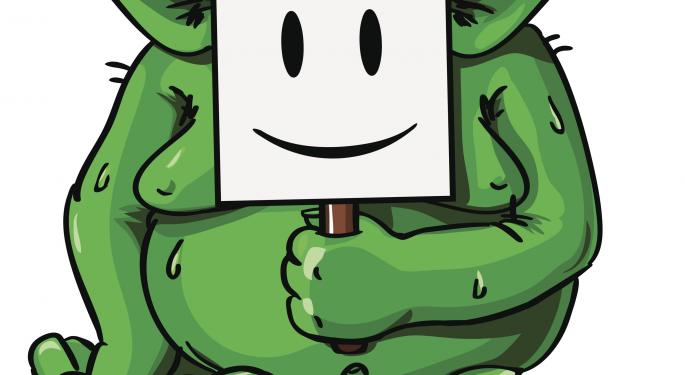 That old saying, "strength in numbers" rings true, especially when those numbers include the likes of Google (NASDAQ: GOOG).
To that end, Re/Code reported, the tech giant, along with Canon (NYSE: CAJ), SAP AG (NYSE: SAP), Newegg, Dropbox and Asana have all joined forces to protect their combined 300,000 patents from abuses by so-called patent trolls.
Those companies formed a coalition and created a License On Transfer network, in which they promised to grant licenses to one another whenever one of the protected patents was sold.
Fighting The Patent Trolls
The idea behind the move was to keep patents from getting into the hands of patent trolls, who have made a practice of using intellectual property to extort fees from others rather than actually producing products themselves.
The License On Transfer (LOT) network, which came about after Google called for a coalition last year, remained open for other companies to join, Re/Code said.
Related: Tesla Advocates Open-Sourcing Of Patents In Blog
Lawsuits by trolls were recently at an all-time high, according to Google legal director Eric Schulman. In 2006, trolls generated only 20 percent of patent litigation. That number jumped to 60 percent in 2012. And RPX Research said that companies still in operation generate more than 70 percent of patents used by trolls.
A Critical Consortium?
LOT is a different approach to patent protection, according to Re/Code. It encompasses participating companies' entire patent portfolio. Additionally, it was only designed to apply to patents that were transferred, so companies could still use their patents against each other as long as they retain ownership.
With government patent reform "dead," at least for now, according to TechDirt, the 'Google & Friends' consortium became even more critical. Companies large and small realized it was up to them to protect their intellectual property.
The appeal of the LOT solution to companies of all sizes was motivation for Dropbox to join the group. Speaking about LOT, Dropbox IP counsel Brett Alten told Re/Code, "It's an inclusive model that doesn't strongly favor large or small companies."
"Large companies are most likely to sell or transfer assets out of the network," he added. "Small companies will be basically inoculated from that kind of threat. And large companies benefit because when small companies fail they often sell patents to trolls."
At the time of this writing, Jim Probasco had no position in any mentioned securities.
Posted-In: Canon Dropbox GoogleNews Legal Events Tech Media Best of Benzinga
View Comments and Join the Discussion!