Smart Toys Could Boost Free-To-Play Video Game Market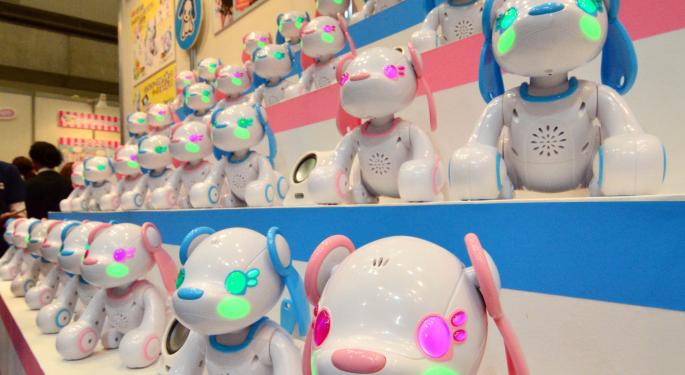 Numerous developers are supporting the free-to-play format, but are microtransactions the best way to profit?
When targeting teens and adults, microtransactions seem to be very profitable. But it is a whole other story when looking at six-year-old kids, who may not comprehend the concept.
"A lot of kids don't necessarily understand this model very well," Michael Cai, Senior VP of Research at Interpret, told Benzinga. "The shiny items, gems, whether it's for Smurfs' Village or some other game targeting kids, a lot of kids are very attracted to the [items]. But they don't really know that when they push the purchase button, $20 [or] $100 -- maybe more -- is actually going to be deducted from their parents' credit card."
Cai sees this as an opportunity for smart toys.
Related Link: Nintendo Promoted 'Mario Kart 8,' Nintendo 2DS With $9.7 Million TV Ad Campaign
"When you think about how successful Skylanders and Disney Infinity are, it's not just about that initial game -- it's about selling additional characters, additional add-on items. There is a major difference between that and what the virtual items are. They're a lot more tangible. The parents understand that they're buying into something their kids can actually play with. Not only is there a physical character, it actually pops up in the game so the kids get additional content."
Smart toy purchases are also easier for parents to control because they are sold at retail. Kids can't simply push one button and take the figures home at mom's expense.
"From the kids' perspective, not only do they get a collectible toy but they get new game content, which is essentially the same attraction and appeal as some of these virtual items in the microtransaction-based free-to-play games," Cai added.
Long-Term Potential
Interpret recently published the results of its latest study, which showed that more than 72 million kids are interested in smart toys. While this indicates that the industry still has room to grow, it does not consider the possibility that smart toys are merely a fad.
"It all comes down to the content itself," said Cai. "Skylanders has been out for a few years and is already very successful. Is there an infatuation with that toy in particular? Maybe. They kind of kept innovating with all these other Skylanders-related games. Then Disney Infinity came in and had some success in introducing new content and characters. Nintendo has Amiibo. Lego is kind of taking a different angle."
Cai said that while kids might grow out of these toys when they get older (as they do with any action figure), there are always younger kids available to take their place.
"I don't think the smart toy category is going to go away," Cai affirmed. "A lot of toy categories have lasted for decades. And I think this category should have staying power, especially as more companies introduce their characters and stories to smartphone and tablet platforms, which actually have better adoption and penetration in some of the emerging markets. I think that is potentially going to open up a bigger market for this category."
In the U.S. and Europe, on the other hand, Cai thinks that the demand "will be driven more by new characters and new stories being introduced to the category."
Disclosure: At the time of this writing, Louis Bedigian had no position in the equities mentioned in this report.
Posted-In: Activision Amiibo comments disney Disney Infinity InterpretTech Interview Best of Benzinga
View Comments and Join the Discussion!