YouTube Joins Netflix In Pinning Poor Streaming Blame On ISPs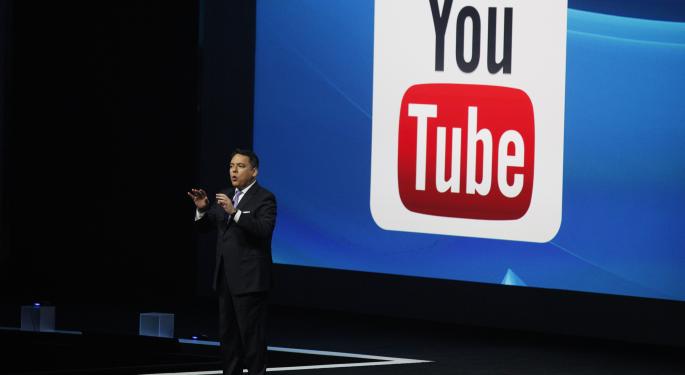 Google (NASDAQ: GOOG) (NASDAQ: GOOGL) owned YouTube has joined Netflix (NASDAQ: NFLX) in blaming Internet service providers for poor streaming quality.
In a blue bar underneath the message, "Experiencing interruptions?" asks users to click "find out why." Doing so brings up Google's new video playback quality rating website.
Google's Video Quality Report website, which has been around since the end of May, serves as a report card for ISPs. It is similar to one created by Netflix, called the ISP Speed Index, and provides consumers with information about the relative download or streaming speeds of various ISPs.
Related: Google: 'We Don't Charge For Peering Or Fast Lanes'
As Quartz noted, Google's interest in blaming anyone but itself for poor video quality stemmed from recent Federal Communications Commission "net neutrality" moves.
Google, Netflix and other video services would like to see the government place responsibility (and cost) for maintaining high-quality streaming on ISPs like Verizon and Comcast. ISPs, on the other hand, would like service providers to shoulder more responsibility since they consume the lion's share of bandwidth.
YouTube's latest online message was similar to one posted by Netflix that read, "The Verizon network is crowded right now." Verizon said that message was "deliberately misleading" and promised to take legal action. Netflix disagreed with that characterization but stopped posting the message in June.
Rating ISPs and blaming them for poor streaming speeds demonstrated a change of tactics on the part of video service providers. Previously, companies like Google advocated for net neutrality with the FCC. Following the release of proposed new FCC rules in April, however, the theme has shifted to more of a PR campaign with the public.
The Wall Street Journal reported in April that Google, Netflix, and Yahoo said they were considering a grass-roots campaign to rally public opinion around the notion of open Internet access for all.
The change in tactics resulted from provisions in the new proposed FCC regulations that would block broadband providers from slowing down individual websites but allow them to charge providers for so-called "fast lanes."
ISPs, for their part, have said crowded networks are inevitable and that video services like YouTube should find less congested routes for their bandwidth-hungry offerings. These "less congested routes" include direct connections (for a fee).
At the time of this writing, Jim Probasco had no position in any mentioned securities.
Posted-In: Comcast Federal Communications Commission Google ISP Netflix VerizonTech Media Best of Benzinga
View Comments and Join the Discussion!