How General Motors Is Using The Recall Debacle To Its Advantage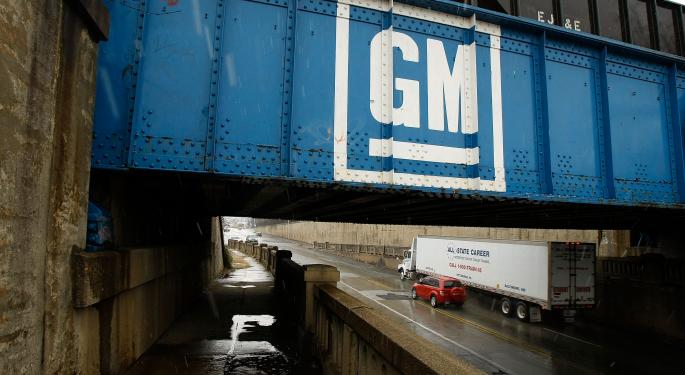 First and foremost is the issue of safety.
General Motors (NYSE: GM) must do everything it can do to ensure the safety of its vehicles. Also, they must live up to their responsibility to compensate customers or the families of customers that have been negatively impacted by the recall.
The company has admitted responsibility, but not fully explained why it took so long for the problems to be revealed to the public. Nevertheless, the shares of GM have weathered the storm quite well over the last five months.
Tale Of The Tape
In fact, GM is trading at a higher level than it was when the first round of massive recalls were announced on February 25, $36.10 versus $38.05 in Wednesday's session.
Related: Height Analytics: Congress May Think GM Recalls Are Not Fully Conveyed
Shortly after testimony by company CEO Mary Barra on April 1, GM bottomed at $31.70 on April 11. Despite the subsequent recalls after that, culminating on June 30 when GM announced a recall of an additional 8.45 million which brought the total to a staggering 29 million cars, the issue has grinded higher.
Back-To-Back Surprising Sales Figures
Not only has the share price moved higher, but the company has stunned Wall Street with its June sales figures, which showed some of the strongest monthly data since 2007. This comes on top of an upside surprise in May, with growth of 12.6 percent versus estimates of 6.4 percent.
GM sales were up slightly at one percent versus estimates of 6.3 decline for the month, getting a huge boost from their Buick brand which was up 18.4 percent. Analysts wrongly anticipating customers would avoid GM brands in the midst of the recall debacle.
Taking Advantage Of Increased Traffic At Dealerships
So if sales have been increasing during barrage of recalls, what is the catalyst driving sales as well as the share price higher? GM is using the bad publicity to its advantage. With millions of customers having to frequent dealerships for repair, GM is ramping up its marketing, rebate and financing campaigns.
Morgan Stanley's Adam Jonas has been hypothesizing this theory for some time now, writing most recently that, "GM is taking control of its US commercial position, showing real market share resiliency despite the very negative PR surrounding the recall. This is thanks to dealers flooded with hundreds of thousands (ultimately untold millions) of customers they would have never normally seen at this part of the cycle who are coming in with recall slips."
In other words, without having to pay hefty advertising fees, the mainstream media is providing GM with a huge marketing campaign at no expense to the company.
Once these customers arrive for a repair, they may be swayed into driving away in a brand-spanking-new GM car after trading in their recalled vehicle for a new model with zero percent APR financing for 72 months.
Related: General Motors Unveils Plan To Compensate Victims Of Faulty Ignition Switch
Along these lines, GM is offering enticing rebates for the month of July, with current corporate incentives that include zero percent financing for 72 months. The company may even take a page out of the playbook of Chrysler -- which turned things around in 2007 by offering Lifetime Powertrain warranties for their 2008 models. Throw in a rock-solid warranty, additional dealer specific offerings on top of rebates, and GM may even continue its back-to-back performance of rising sales.
Of course, GM would have rather avoided the recall debacle entirely, but since it has occurred the company has used the free publicity to its advantage. Capitalizing on the unexpected traffic to their dealerships, by offering incentives that customers cannot refuse as evidenced by the staggering sales figures for May and June.
From a technical perspective, the moment of truth has arrived, as GM flirts with a very important resistance at $38.00. That level represents a triple top in early March, on its first attempt to rebound from its first round of recalls.
Where Does The Share Price Go From Here?
In Tuesday's session, GM has exceeded that level, reaching $38.15 after taking out huge institutional sellers at $38.00. But it has since fallen back under $38.00, as there was not enough retail buying above it, to allow the short-term buyers at $38.00 to exit their positions with a profit. As a result, they are attempting to wiggle out of their non-profitable position with a limited loss.
If, in fact, GM can clear this important level with a series of closes above $38.00, it may pave the way for a test of its all-time post IPO high -- made back in December at $41.85.
Posted-In: automotiveNews Technicals Travel Events Intraday Update Trading Ideas General Best of Benzinga
View Comments and Join the Discussion!