Toyota's New Fuel Cell Car Does Not Impress Tesla's Elon Musk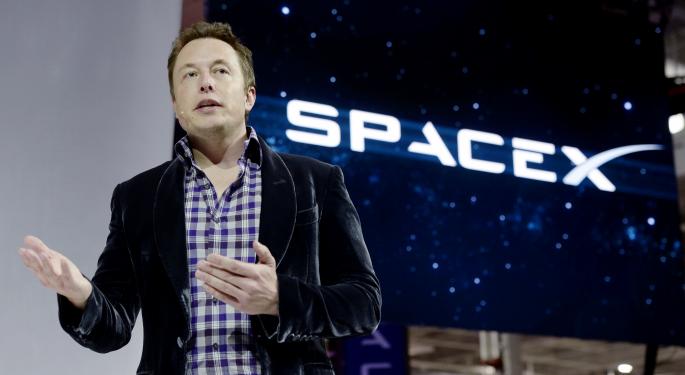 Toyota (NYSE: TM) announced last week its all-new fuel cell vehicle.
Since fuel cells have a potential edge over batteries as a source of power – namely that fueling up takes far less time – one might think Tesla (NASDAQ: TSLA) and CEO Elon Musk would be concerned. One would be wrong.
Musk, according to Bloomberg, said at Tesla's annual meeting in Palo Alto this month, "As people probably know, I'm not the biggest fan of fuel cells -- I usually call them ''fool cells,'" Previously Musk told employees in Germany that fuel cells were "a load of rubbish."
Despite the bravado, time for many people is money. Recharging a Tesla, even at a Supercharger station, takes more than an hour. A hydrogen gas fill-up can be done in three to five minutes – roughly the time it takes to put gasoline in a conventional automobile.
Related: How Long Can Tesla's Rally Continue?
Another money issue, however, is the cost of the car. Currently a new Tesla Model S starts at about $60,000. Musk hopes to have a $35,000 model available in a few years. Toyota has said its fuel cell vehicle, named the FCV, would sell in Japan for seven million yen. That works out to about $69,000 if the price stays similar when the car unveils in the United States. The L.A. Times reported that the Toyota vehicle was expected to sell for less in the U.S. than in Japan.
In addition, as Engadget noted, Tesla's Superchargers are relatively easy to build and maintain with some of them powered by solar, another cost savings. By way of contrast, hydrogen is difficult to gather, store and deliver at high pressure.
Toyota's FCV was set to premiere in Japan in the spring of 2015 with a planned U.S. rollout several months later.
As the L.A. Times reported, the FCV was expected to have a range of about 430 miles. Hydrogen, Toyota said, has a higher energy density than batteries and can also be produced using wind or solar power.
When it comes to vehicles, safety is always an issue. Tesla has had some troubles with battery packs catching fire. Hydrogen is highly flammable but Toyota said it solved that problem by making fuel tanks literally bulletproof.
Power is another factor. Tesla's all-electric vehicle would be far less impressive if it had the power, speed and performance of a golf cart. Tesla's zero to 60 speed marker is 5.9 seconds. Toyota said its fuel-cell car would have the equivalent of 134 horsepower and could get from zero to 60 mph in about 10 seconds.
At the time of this writing, Jim Probasco had no position in any mentioned securities.
Posted-In: Elon Musk Engadget L.A. Times Model S supercharger Tesla ToyotaGlobal Best of Benzinga
View Comments and Join the Discussion!