World Cup Sets New Ratings Records For ESPN, BBC Video Streams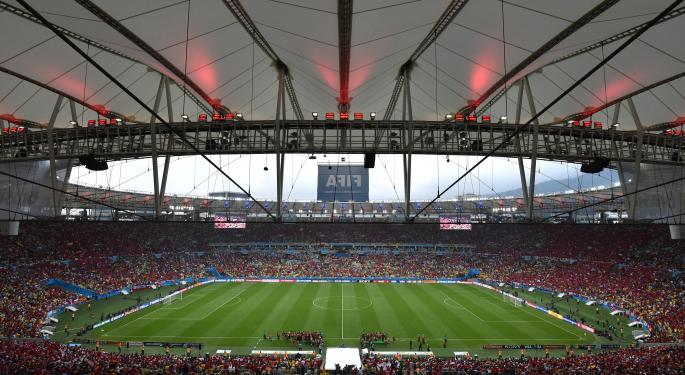 The 2014 FIFA World Cup has become a temporary cure for ratings blues.
On any normal day, ESPN's live video streams account for roughly 0.2 percent of all domestic video streams. In the United Kingdom, BBC Live accounts for roughly 0.8 percent of all video streams.
When Portugal took on the United States, ESPN's live video content accounted for 4.8 percent of all domestic video streams. This made it the third most popular streaming site for the duration of the game, surpassing Hulu, Amazon Prime, Twitch and others.
Univision's NeuLion platform (which also streams World Cup games) earned a space in the top 10 as well.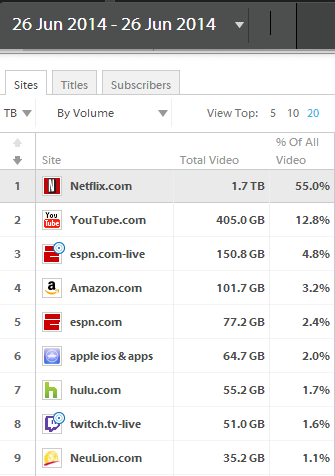 Image Credit: Qwilt
"The biggest result that they had so far in the World Cup so far was during the Portugal-U.S. match," Dan Sahar, co-founder and VP of Product Marketing at Qwilt, told Benzinga. "That was the peak. They also announced that they broke the Super Bowl record for most streams."
The BBC's gains were even greater. During the Italy-U.K. match, BBC Live became the number-one video site in the United Kingdom.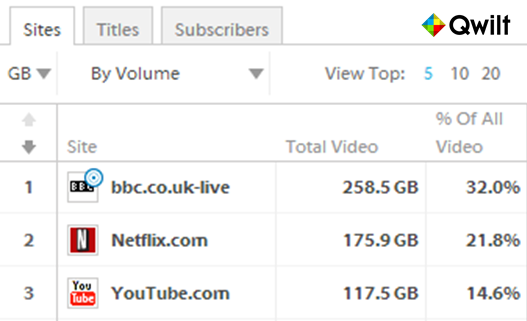 Image Credit: Qwilt
Similar gains were enjoyed in France during the France-Switzerland game.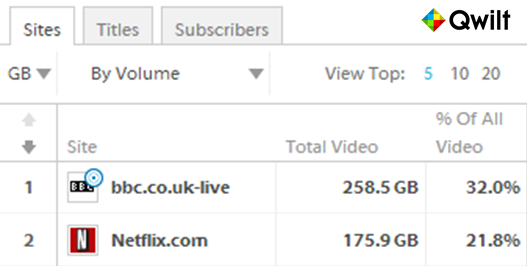 Image Credit: Qwilt
"We saw something very similar to that, not related to the World Cup, in Taiwan," said Sahar.
In Taiwan, a local carrier (Chunghwa Telecom) acquired the distribution rights to the nation's popular baseball league. Only Chunghwa Telecom subscribers could watch it on TV. All other consumers were forced to watch it online.
"That site became number-one in Taiwan every time there's a match," said Sahar. "And it's not one time -- you can see it three times a week. It happens, that site spikes to number-one, and it consumes 20 to 30 percent of all the video traffic. That's a direction of the future: once you have a sport that the number-one way to watch it is online, it just changes all the economics of the network."
Disclosure: At the time of this writing, Louis Bedigian had no position in the equities mentioned in this report.
Posted-In: BBC BBC Live comments Dan Sahar ESPN QwiltSuccess Stories Tech Best of Benzinga
View Comments and Join the Discussion!