Goldman Sachs On Abenomics: Businesses View Stimulus-Related Demand As Fleeting
Japan has been witnessing a breakdown in the correlation of demand-deficient unemployment and nominal wages.
According to a Goldman Sachs (NYSE: GS) note Friday morning, labor shortages have been experienced in construction, transportation, retail, hotel/restaurant and healthcare sectors. These sectors are not adding new workers and the payrolls in construction and manufacturing are falling.
Analyst Naohiko Baba notes "a decline in the demand-deficient unemployment rate exerted upward pressure on nominal wages, but recently this correlation has weakened significantly."
The demand created by Abenomics, along with the demand rush prior to a hike in consumption tax, is viewed as fleeting by corporations according to the Goldman note. This has led to businesses containing wage growth because once basic wages are raised, they become a fixed cost, which means the wages are very difficult to lower.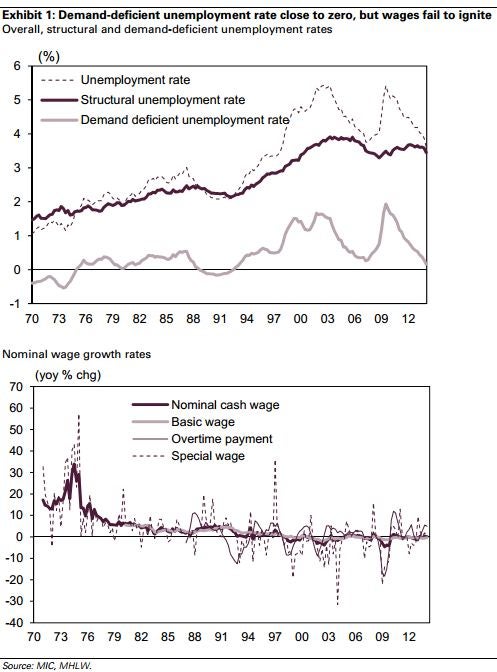 This means that even as the Japanese Central bank tries to stimulate the economy, local businesses have realized the pent up demand as not being organic. This renders the fiscal stimulus and monetary easing measures useless for stimulating the underlying Japanese economy.
Posted-In: Goldman Sachs Japan Naohiko BabaNews Global
View Comments and Join the Discussion!