U.S. Supreme Court's Cellphone Decision Has Wide-Ranging Implications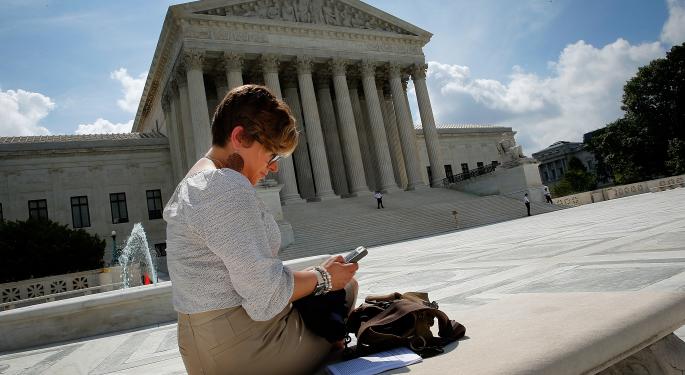 In a unanimous decision Wednesday the U.S. Supreme Court ruled that police must obtain a search warrant before examining the contents of a suspect's cell phone.
The decision constituted a sweeping rejection of law-enforcement arguments that there was no difference between a cell phone and a wallet, pack of cigarettes or address book found in a suspect's pants pocket.
The distinction has to do with the sheer volume and types of information contained on a single cell phone. Because of this, according to the Supreme Court, calling the devices "cellphones" is a misnomer.
"They could just as easily be called cameras, video players, Rolodexes, calendars, tape recorders, libraries, diaries, albums, televisions, maps, or newspapers," the ruling said.
Related Link: 2 Reasons Why Aereo's Downfall Is Bad For Netflix
Although Wednesday's Supreme Court decision seemed to have a narrow application, the actual impact would likely be much larger, according to The New York Times.
It was almost certain the ruling would apply to searches of tablets, laptop computers and other electronic devices, in homes, businesses and even to third parties such as Verizon (NYSE: VZ), AT&T (NYSE: T), Google (NASDAQ: GOOG)(NASDAQ: GOOGL) and others.
George Washington University law professor, Orin S. Kerr told the newspaper, "This is a bold opinion. It is the first computer-search case, and it says we are in a new digital age. You can't apply the old rules anymore."
Vox drove that point home, drawing attention to a single sentence in the Supreme Court cellphone ruling. To counter the government's argument that searching a cell phone was no different from searching other types of items in a suspect's pocket, the court said, "That is like saying a ride on horseback is materially indistinguishable from a flight to the moon."
In other words, the magnitude of information available in digital form all by itself makes technology a different playing field.
One example, likely to be challenged in the future, includes the so-called "third party doctrine" that has said you lose privacy protection when you voluntarily hand information over to a company like Google or Yahoo.
This information could come in the form of email, phone records or even the user's location as determined by a cellular GPS system.
The decision Wednesday was one of two in which the Supreme Court addressed new technology and the application of protective law. In addition to the cellphone ruling, the court also said Aereo used "technology workarounds" to violate copyright law that protected traditional broadcasters like Disney-owned ABC, CBS and Comcast-owned NBC.
At the time of this writing, Jim Probasco had no position in any mentioned securities.
Posted-In: ABC Aereo AT&T CBS ComcastLegal Events Tech Best of Benzinga
View Comments and Join the Discussion!