Democratic Legislation Would Force FCC To Ban Internet Fast Lanes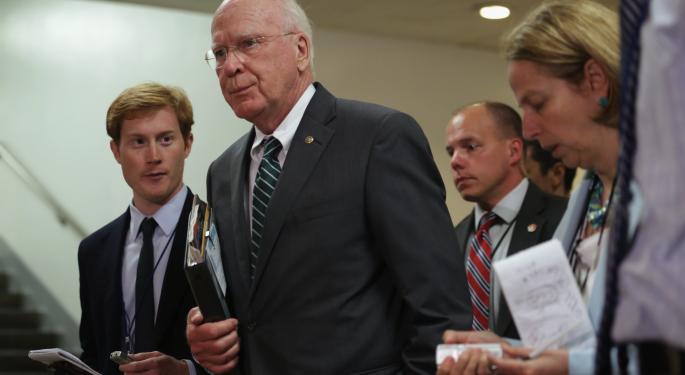 If legislation unveiled Tuesday by Senate Judiciary Committee chair Patrick Leahy (D-VT) and Rep. Doris Matsui (D-CA) becomes law, the debate over Internet fast lanes could be over.
The legislation, known as the Online Competition and Consumer Choice Act would give the Federal Communications Commission broad authority to prohibit Internet providers from speeding up some content at the expense of other content.
Specifically, the law is aimed at preventing ISPs like Comcast (NASDAQ: CMCSA) from charging content providers like Netflix (NASDAQ: NFLX) additional fees – which would then be passed on to consumers – to ensure smooth streaming of movies, television shows and other content.
Related Link: Google: 'We Don't Charge For Peering Or Fast Lanes'
Leahy told The Washington Post, "Americans are speaking loud and clear. They want a platform for free expression and innovation, where the best ideas and services can reach consumers based on merit rather than based on a financial relationship with a broadband provider."
The fast lane ban would only apply to connections between end-users (consumers) and Internet providers. The FCC's current proposal, now in the public comments stage, would allow ISPs to create multiple tiers on the content provider side – although the agency has asked whether that practice should be banned as well.
Broadband As Utility
Meanwhile, a larger debate continued over whether the FCC should reclassify broadband as a utility – allowing for full regulation. Such action would eliminate any question about whether the FCC has authority to ban traffic discrimination under the current proposal.
The FCC's current proposal addresses that issue by allowing commercial speed agreements, but reviewing them on a case-by-case basis if the agreement seems to be a violation of the spirit of the regulations in effect.
Although consumer advocates want reclassification, broadband companies do not. Even with reclassification, some broadband providers have maintained that loopholes exist that could permit speed agreements, so long as they were not considered "unjust" or "unreasonable."
Partisan division over the proposed legislation has resulted in an admission on the part of Democrats that a bipartisan agreement would not be likely.
In fact, in May, Republican congressman Bob Latta introduced a bill that would prevent the FCC from reclassifying broadband as a utility.
FCC chairman, Tom Wheeler, hoped reclassification wouldn't become an issue, saying he would reserve trying that option only if the existing FCC proposal failed to protect consumers.
At the time of this writing, Jim Probasco had no position in any mentioned securities.
Posted-In: Comcast Federal Communications Commission Netflix Patrick Leahy Tom WheelerLegal Best of Benzinga
View Comments and Join the Discussion!