Materialise Sets IPO Price Range And Shares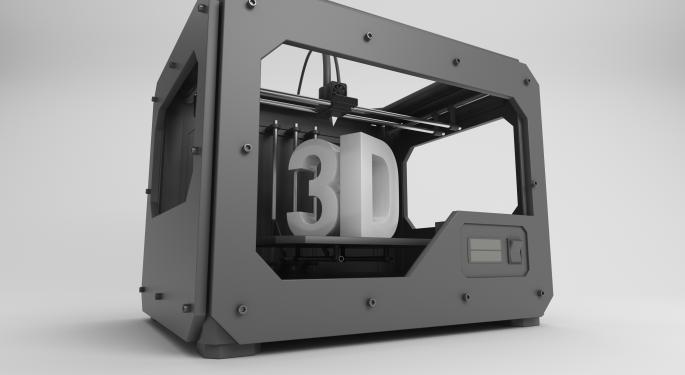 Belgium-based manufacturer of 3D printing systems, Materialise (NASDAQ: MTLS) is working with underwriters Piper Jaffray and Credit Suisse to launch its IPO.
In a filing on Thursday, the company announced plans to sell eight million American Depository Shares (ADS) in the $12-$14 dollar range to raise over $110 million.
Materialise focuses on three main business segments, namely software development, 3D printing and engineering. According to Materialise, its core competencies, "act as complementary incubators for our new products and function as integrated support centers of existing products."
Related Link: GoPro IPO Valued At $3 Billion: Is It The Next Flip Camera?
3D printer applications are useful for their ability to manufacture an array of parts for various industries, including those that are highly regulated, like medicine. In 2013, Materialise manufactured 500,000 medical devices, prototypes and production parts for the medical field. Other uses can be found in fields such as healthcare, automotive, aerospace and art and design.
For 2013, Materialise generated €68.7 million in revenue, representing 16.3 percent growth year over year. As of March 31, 2014, the company had earned €18.7 million in revenue, a 20.4 percent increase over the same period last year. After three months, Materialise has an EBITDA of €1.4 million with a net profit just in the black at €0.1 million.
Net proceeds of the offering will be used to expand 3D printing service center capacity, to increase global sales and marketing and to fund additional research and development.
3D printing companies 3D Systems (NYSE: DDD) and Stratasys (NASDAQ: SSYS) have struggled in terms of stock value year-to-date. Stratasys has lost about 30 percent of its value and 3D systems has crumbled by 50 percent since January 1st.
Maybe this is a well-timed IPO for Materialise. Even though other publicly traded printing companies have been hammered, they are still up over 100 percent for the previous two years.
Related Link: Resonant Reverberates With Investors On Big First Day
The future looks bright for 3D printers, Materialise especially. The company is still small enough to tackle market share by moving into markets that demand 3D printing to customize products and cut traditional production costs. The global medical technologies business is expected to grow by 35 percent by 2017, with the single largest segment being orthopedics.
Planning for this, Materialise will continue to invest heavily in development of new orthopedic products. Recently, growth has been the result of knee-implants, but the company has been working on developing additional joints. Responding to the demand, it developed production guides for hips and shoulders.
By being active in the medical segment, the company will position itself well for future growth and believes it is the market where it can, "most directly realize our mission statement and contribute to a healthier world."
Disclosure: At the time of this writing, the author holds not positions in the mentioned securities.
Posted-In: 3D printers 3D Systems IPO Materalise StratasysIPOs Tech Best of Benzinga
View Comments and Join the Discussion!