If Nintendo's Lines Were Always This Big, Wii U Could Outsell PlayStation 4
Nintendo (OTC: NTDOY) and Best Buy (NYSE: BBY) teamed up for another Wii U event this week, to coincide with the 2014 Electronic Entertainment Expo in Los Angeles.
Designed as a promotional tool for both companies (it increases store traffic while encouraging attendees to purchase a Wii U and/or new software), this year's event is being held at more than 100 Best Buy stores across America.
Attendees were treated to one primary demo: Super Smash Bros. for Wii U. That may not sound like a big deal, especially when compared to last year's event -- which featured four demos (Super Mario 3D World, Donkey Kong Country: Tropical Freeze, Mario Kart 8 and The Legend of Zelda: The Wind Waker HD).
Super Smash Bros. isn't an average series, however. Its fans are some of the most devoted in the world. They would travel to Los Angeles for E3 if the show was open to the public. In place of that, consumers were happy to visit the nearest Best Buy, for a chance to play the latest Smash Bros. game.
Related: Flaregames Raises $12 Million To Build Free Games
Last year, around 150 to 200 people were in line at any given time at the Best Buy in Rochester Hills, Michigan. This year, more than 300 people lined up before the event even started at 4:00 p.m. The line stretched all the way outside. By 4:30, Geek Squad employees announced that there were too many people in line to play within the five-hour window. Some customers were told to leave and return on Saturday, June 14 for the second day of the event, which starts at 12:00 p.m.
The crowds weren't as thick at the Best Buy in Southfield, Michigan, but the wait times still exceeded two hours for most attendees.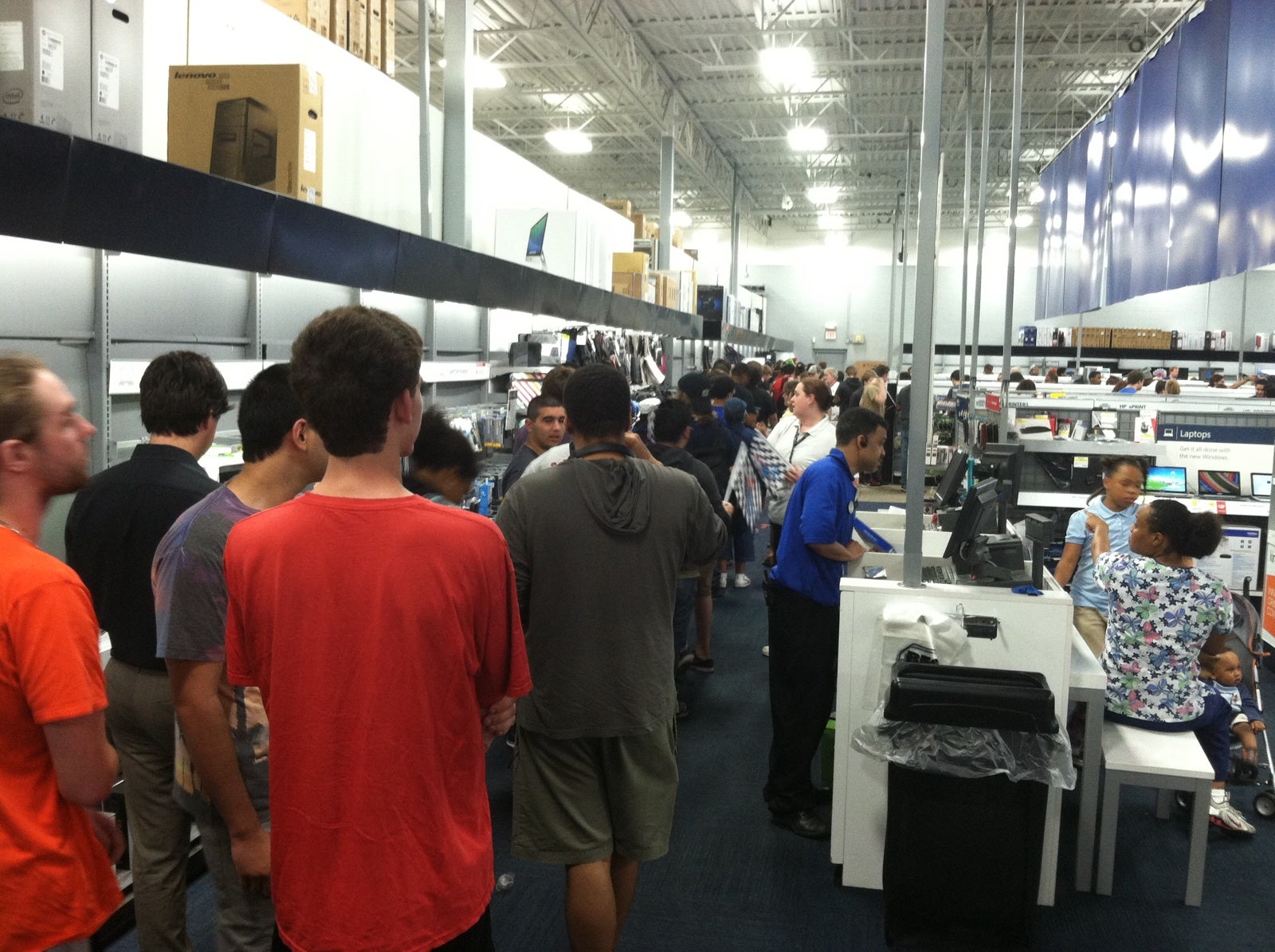 Image Credit: Louis Bedigian © Benzinga
Curiously, Best Buy used unsold LG television sets to divide the line.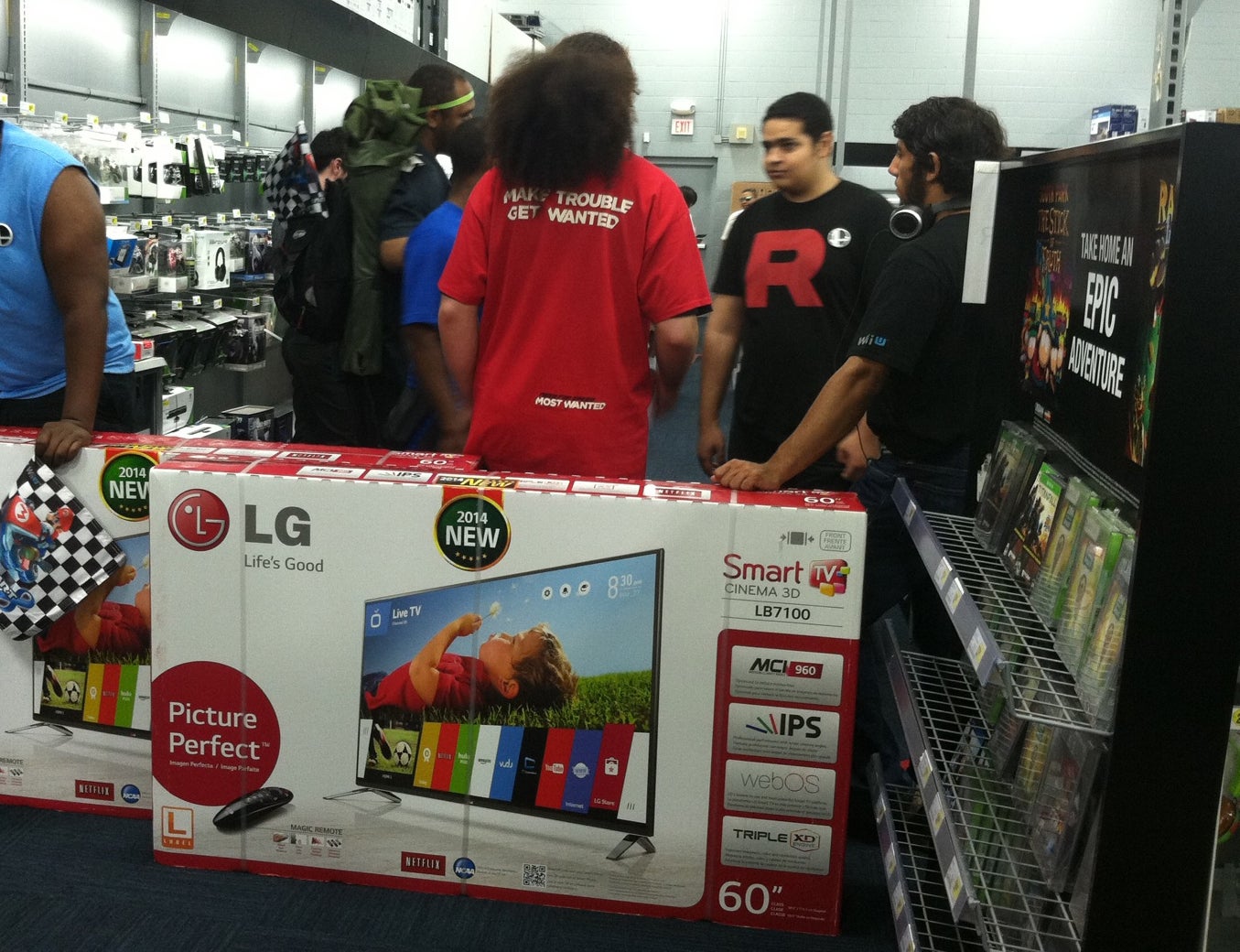 Image Credit: Louis Bedigian © Benzinga
The full list of participating Best Buy locations can be found at BestBuy.com/smashfest.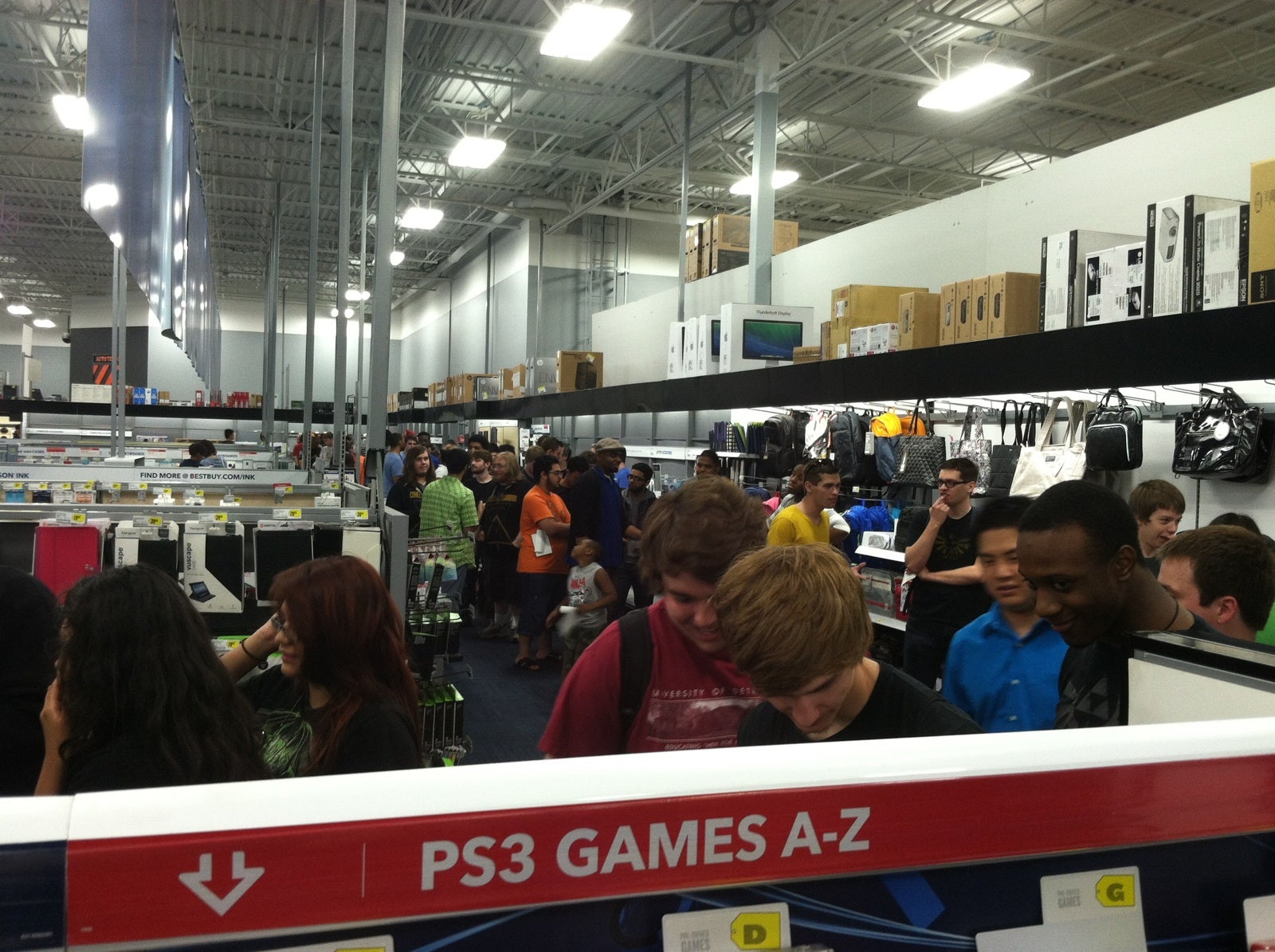 Image Credit: Louis Bedigian © Benzinga
At one point, the line wrapped all around the back end of the store and stretched between multiple aisles. But these images (which were taken at the Southfield, Michigan location) only show a fraction of the people who attended.
In addition to the Wii U version of Super Smash Bros., Nintendo also surprised attendees with a mobile kiosk, featuring the Nintendo 3DS version of the game. The kiosk (which was essentially a guy with two systems attached to his shirt) walked up and down the line, providing everyone with the chance to play.
This was an effective way to entertain those in line, if only for a few minutes. If expanded upon with additional games at next year's event (assuming Nintendo and Best Buy team up again), waiting in line could end up being the most fun part.
Big Sales?
At last year's event, Benzinga did not see anyone pre-order a single game. At Best Buy's Smash-Fest, however, dozens of attendees pre-ordered the new Smash Bros. game, and at least one person purchased a Wii U.
Related: Hints That 2015 Is The Swan Song For Nintendo's Wii U
This interest could be due to the pre-order bonus (Best Buy is offering a collectible coin to the first 70 people who pre-order the game during the event). It should also be noted that these pre-orders were only seen at one location. Actual pre-sales could have been higher or lower at other Best Buy stores.
Even so, it is a positive move for both the retailer and Nintendo.
"Best Buy's Smash-Fest was popular across the country with many locations hosting hundreds of excited gaming fans," Best Buy communications rep Lisa Svac Hawks told Benzinga. "Unfortunately, we do not disclose specific sales of products or categories."
Nintendo might release some pre-order numbers once the event is over. In the meantime, one thing is clear: if Nintendo could draw in massive crowds like this on a regular basis, the company might have what it takes to outsell Sony's PlayStation 4.
Disclosure: At the time of this writing, Louis Bedigian had no position in the equities mentioned in this report.
View Comments and Join the Discussion!
Posted-In: best buy Electronic Entertainment Expo Lisa Svac Hawks NintendoNews Events Tech General Best of Benzinga