Apple Split Windfall For Option Traders & Brokerages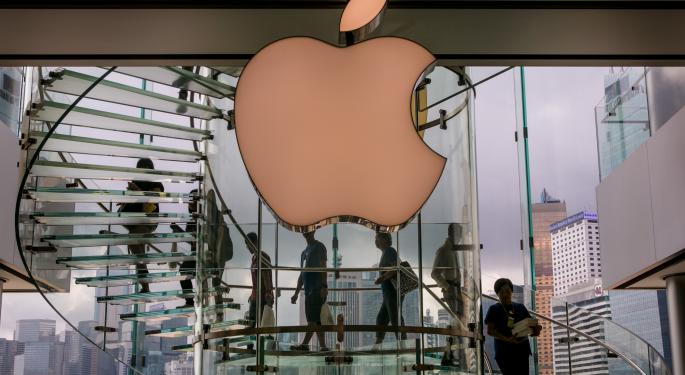 As would be expected, Apple (NASDAQ: AAPL) saw a marked increase in options activity resulting from its split taking effect on June 9. Holders of Apple stock as of June 2, 2014 received six more shares for each share they owned.
As a result, if the same notional amount of options is traded pre- and post-split, then the number of contracts traded will have increased by the split value.
Steven Chubak, a Nomura analyst, explained in a recent note that, "AAPL options currently trade at a rate of 450K contracts per day, or ~3 percent of total industry volume, a meaningful contributor overall."
Chubak added, "Assuming retail clients trade the equivalent notional of AAPL contracts pre- and post-split, the number of contracts traded would rise 7x, and pro forma volume would increase to 3.15mn contracts per day. This would translate into industry volumes rising to 17.7mn from 15.0mn (+18% growth)...".
Related Link: Carl Icahn And The Family Dollar Poison Pill
Brokerages such as E*Trade (NASDAQ: ETFC), TD Ameritrade (NYSE: AMTD) and Scottrade should benefit from additional fees and the ever cherished PFOF (Payment For Order-Flow).
Apple Price (Right-Axis) versus TD & E*Trade Prices (Left-Axis):
(Click Image To Show Detail)
Through the increase in volume and the attraction of more participants, Apple has the potential to see tighter spreads and more liquidity. Joel Elconin, the host of Benzinga's #PreMarket Prep, commented that "size at times is fleeting. It's hard to see if it'S really trades or if these are just cancellations".
One drawback to dealing with a high profile stock like Apple is the tendency for the tape to become littered with odd lots as computers pick off every single order and attempt to draw out as many positive sub-penny trades as possible. This action may cause an unhealthy scenario and seasoned traders know how splits can attract people the day of, only to set them up to flushed out before the week ends.
Posted-In: Apple ETrade Nomura Scottrade TD AmeritradeOptions Stock Split
View Comments and Join the Discussion!