Will Publix Try To Acquire Whole Foods?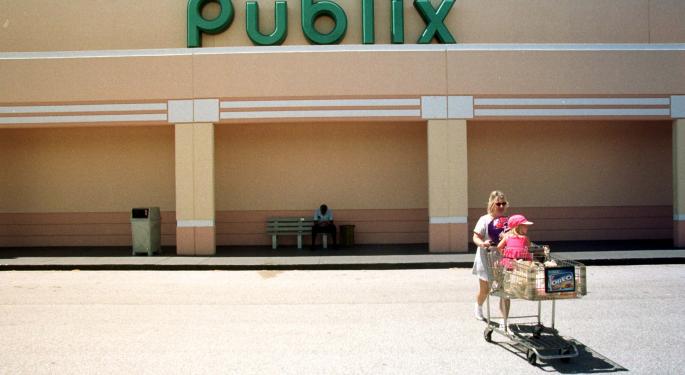 A strange, but persistent rumor began last week that privately held Publix Super Markets plans to acquire publicly traded Whole Foods (NASDAQ: WFM).
The rumor arose from a report on financial website, Briefing.com, that described "chatter" suggesting Publix was interested in buying Whole Foods. The rumor led to a spike in Whole Foods shares Friday.
According to analyst Brian Yarbrough of Edward Jones, "The stock has rallied substantially in two days. Someone believes there is some truth to this rumor."
Related Link: Shocker? Whole Foods Market Is Cheaper Than Kroger
On the other hand, Yarbrough noted that Whole Foods had well-documented plans to grow from its current 383 nationwide stores to 1,200 eventually. "We are not even [at] one-third of that yet," he said. "I would have to think they have no interest if they really believe this industry can be as big as they think. If they really believe in the growth story, they are probably not willing to pull away."
Privately held Publix, with 1,077 stores in six states is the fifth-largest food retailer in the U.S. The employee-owned chain sells stock over the counter and publishes financial reports through the U.S. Securities and Exchange Commission. The company is valued at $24.1 billion. Whole Foods has a value of $13.9 billion.
What made the rumor interesting was that although Whole Foods may have no real interest in being acquired, it might not be able to avoid it if Publix sets its mind to a buyout. Whole Foods co-founder and co-CEO, John Mackey owns less than one percent of company stock. The entire management team has less than five percent, according to Yarbrough who added, "They don't own enough to block it."
Both Publix and Whole Foods have been in growth mode lately. Whole Foods gained attention when it appeared at the number 218 spot on the Fortune 500 list last week with revenue of $12.9 billion last year. Publix posted just over $29 billion in revenue in 2013.
Publix, which has been challenged by Whole Foods for market share, especially in Florida, would have reason to want to acquire the natural foods grocer. Other natural and organic-based chains including Trader Joe's, The Fresh Market and even Wal-Mart's Express and Neighborhood Market stores, which the company said would expand by 300 this year, have also started to become successful competing with Publix in the south.
At the time of this writing, Jim Probasco had no position in any mentioned securities.
Posted-In: Brian Yarbrough Edward Jones john mackey Publix Securities and Exchange Commission the fresh market Wal-MartRumors Best of Benzinga
View Comments and Join the Discussion!