Can This Simple Program Stop Google Glass In Its Tracks?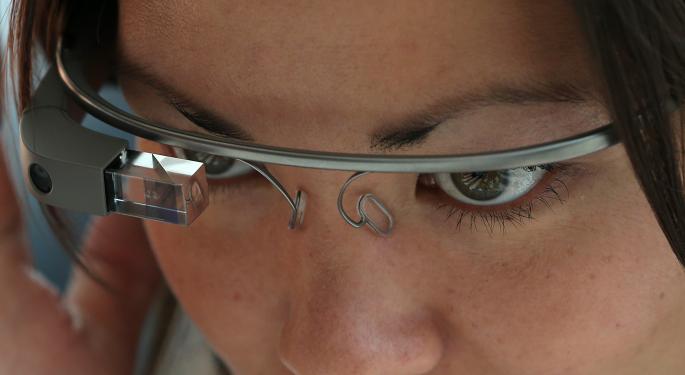 Most people are not crazy about the idea that Google (NASDAQ: GOOG) Glass wearers can record them without their permission – just by looking at them. Berlin artist, Julian Oliver, concurs and decided to do something about it.
That 'something' is a simple program called Glasshole.sh that detects when a Glass device attempts to connect to a Wi-Fi network.
Oliver's program not only detects the attempt, but can also launch another program called Aircrack-NG, which impersonates the Wi-Fi network and deauthorizes the connection. Oliver's program can also emit an audio signal in the form of a beep that lets others know the Glass-wearer is nearby.
Related: 6 Reasons Google Glass Needs More Positive Buzz
Speaking to Wired, Oliver said, "To say 'I don't want to be filmed' at a restaurant, at a party, or playing with your kids is perfectly OK. But how do you do that when you don't even know if a device is recording? This (program) steps up the game. It's taking a jammer-like approach."
Oliver's Origin
The impetus for Oliver's creation came after he heard a fellow artist complain about guests at an art exhibit wearing Glass devices. Most art exhibits have strict rules against recording but as Oliver's friend noted, with Glass there was no way to tell if the wearer was recording or not.
As Wired reported, programs like Glasshole.sh make anti-Glass policies and rules in restaurants, bars and other public places more enforceable. Such a program, Oliver said, would be legal so long as the person using the program owned the network from which he or she was trying to boot off the Glass device. Oliver compared the program to cellphone jammers, used in schools, libraries and government buildings.
The question of legality could take a dark turn, however, if Oliver follows through with his plan to create another version of his Glasshole.sh program that designed to knock Glass off any network or even cut the link to the user's phone.
Loss of Privacy?
Questions about things like NSA surveillance, traffic cameras and the use of devices such as Glass have become enmeshed in the public discourse about privacy and the rights of citizens to have theirs protected.
Some believe the answers lie in legislation. Others, like Oliver, could very well take matters into their own hands. The impact of all this on Google's attempts to popularize and market its Glass device remains to be seen.
Glass clearly offers all manner of convenience along with the ability to positively affect lives, but at the same time it carries baggage when it comes to matters of privacy.
At the time of this writing, Jim Probasco had no position in any mentioned securities.
Posted-In: Glass Google NSATech Best of Benzinga
View Comments and Join the Discussion!