Honeywell Turns Up The Heat On Nest's Thermostat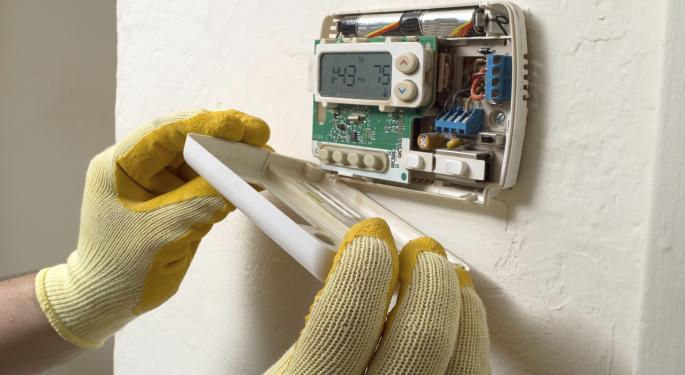 Google (NASDAQ: GOOG)(NASDAQ: GOOGL) gained a lot of attention after it decided to acquire Nest Labs for $3.2 billion.
Nest Labs is famous for creating a smart thermostat that looks like a cross between an iPod and a speedometer. The device was designed to learn (and eventually copy) the heating and cooling habits of its user.
It is not yet known why Google wanted Nest. Some have theorized that Google is interested in the company's data collection. Others speculated that Google may have acquired Nest for new product concepts that have not been shown to the public.
Related Link: Google Will Dominate Wearable Market Starting This June
Whatever the case, it was only a matter of time before an industry stalwart released a smart thermostat of its own. Actually, Honeywell (NYSE: HON) has been in the game for awhile, but its latest model adds a new element: voice control.
"This [the Wi-Fi Smart Thermostat with Voice Control] is a product that has been built off of our successful platform that we've developed," Honeywell product marketing specialist Mike Bruce told Benzinga. "We have now added voice control, which is really a more natural interaction for products. It's something that we see, going forward, is a way for consumers to engage with a device in a more natural way."
Bruce thinks that this could lead to a greater degree of automation within the home.
"It becomes a really powerful tool when you start to add other devices to it," he said. "Currently, if you were to look at our thermostat and you give it a command, such as, 'I'm feeling hot' or, 'Make it warmer,' it can take action. As you look in the future, that becomes really powerful when you can say, 'I'm home' and you have a series of events that take place by a voice command."
Not Interested In Data
Bruce wouldn't speculate about what Google might do with Nest, but he said that Honeywell is not interested in becoming a data company.
"For us it doesn't matter where a person is or where a person is going," said Bruce. "There is information that we will, by nature, learn as far as [consumers change] their settings. But we're not interested in being a data company. We're interested in building products that make people more comfortable in their home and help them save money when they're away. That, ideally, is what we're after."
Related Link: Will Google's Project Ara Give Apple A Run For Its Money?
Getting Smarter
In discussing the overall size of the market, Bruce said that it is definitely a growing space.
"I'll be honest, I don't have the data right in front of me says exactly how big it is," he said. "I know that it is a huge portion of our current business, and if you look at our portfolio, we have multiple thermostats that are able to be connected via Wi-Fi and via RedLINK, which is our proprietary wireless communication protocol, and it's really a fast-growing segment of the market place."
Bruce said that customers are looking at connected products in a whole new light. Instead of being a feature that is merely nice to have, many customers expect their devices to be connected.
"We continue to look at this as a fast-growing, fast-evolving space that we are investing heavily in, and we'll continue to develop products that are connected and provide a solution to customers where they can access remotely from their smartphones and tablets," Bruce added.
Disclosure: At the time of this writing, Louis Bedigian had no position in the equities mentioned in this report.
Posted-In: comments Google honeywell Mike Bruce Nest Nest Labs Wi-Fi Smart Thermostat with Voice ControlTech Best of Benzinga
View Comments and Join the Discussion!