Which Company Will Deliver The Next Breakthrough In Biometric Technology?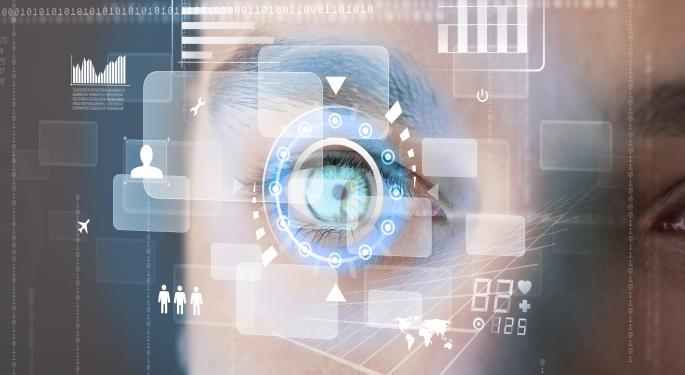 Will it be a stalwart like Apple or a startup?
Peter G. Tapling, President and CEO of Authentify (a provider of automated authentication services), expects it to be a combination of the two.
"One of the characteristics of being a smaller company is, we can come up with really great ideas and we kind of work really hard to get particular individuals to implement it," Tapling told Benzinga. "There's no replacing Apple making something available to 500 million people in a day. So I think it's going to be a combination."
Apple, of course, is famous for adding a fingerprint scanner to the iPhone 5S. But that's not a new technology -- fingerprint scanners have been around for a long time.
Tapling is intrigued by the potential for using an individual's ECG as a biometric.
Bionym is experimenting with that technology and plans to launch a new wristband that serves as a wearable authentication tool. If successful, it could allow a user to bypass passwords, pins, keys and cards for accessing a variety of applications.
Related Link: Will 2014 Be Apple's Best Year Since 1989?
Unlike other, more familiar biometric tools, the ECG concept is relatively new. There isn't as much scientific data to prove that it actually works. Bionym hopes to change that when it releases its own whitepaper this fall to discuss the technology's functionality and accuracy.
"Maybe it will work and maybe it won't," said Tapling. "But I think the one thing they've hit on, which is going to be interesting, is the fact that it's always on. You don't have to do anything."
By comparison, all of the other formats -- hand geometry, iris and fingerprint scans, voice and facial recognition -- require the user to actually do something at the time of authentication.
"Is the world going to take off on heartbeat recognition?" Tapling questioned. "The probability is probably pretty low on that one. But the concept of giving a user experience where I'm not being forced to enter these strong authenticators over and over again, 15 times a minute [is an improvement].
"Certainly, if I'm at my bank and I'm wiring $150,000, I kind of want them to force the authenticator. But if I'm logging into CBS Sports to see how I did in the Final Four bracket, which was terrible this year for me, that's less important. I want the ability to do strong authentication if I've got a credit card associated with that. But for general stuff I want these authentication events to be as seamless as possible."
Why Iris Scans Are All Hollywood
Iris scanners are a useful tool for some individuals, but the real thing is vastly different from what consumers see on TV. "Iris scan requires a high-quality camera [and] requires that the camera be focused at the center of the iris," Tapling explained. "When you watch NCIS and they walk up to the elevator and look at the elevator and it claims to do an eye scan, that's not really how it works. Good iris scanners have a little socket that you put your eye into. That user experience is probably not going to scale to a consumer level. It's probably the highest-quality authenticator."
Related Link: Is Beats Developing Apple's Next Groundbreaking Device?
Voice recognition is easier to implement because any microphone -- whether it's from a smartphone or some other mobile device -- can be used to capture a voice sample.
"What you're going to start seeing, I think, are mash-ups, where somebody's going to say, 'We're going to have you speak something and then we're going to take a picture of your face,' and things like that," Tapling theorized. "If those are done one at a time, they get convoluted for the consumer.
"You go to Bank A and they do one set of things, you go to Bank B and they do a different set of things. I'm an old guy -- if you're like me you've got seven, eight, nine different banking relationships with seven, eight or nine different ways that you're going through an authentication process, which again is a bad customer experience."
Disclosure: At the time of this writing, Louis Bedigian had no position in the equities mentioned in this report.
Posted-In: Apple Authentify comments Nymi Peter G. TaplingTech Best of Benzinga
View Comments and Join the Discussion!