What Is T-Mobile Doing With ETFs?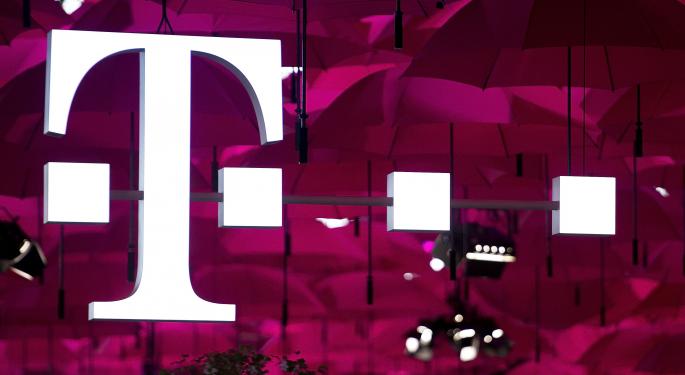 T-Mobile (NYSE: TMUS) sees ETFs as key to its future. Sprint (NYSE: S) and parent Softbank Corp., hoping to merge with the company sooner rather than later, has to decide how it will deal with them.
ETFs, in this situation standing for "Early Termination Fees," are the meat cleavers the telecoms hold over consumers' heads -- to prevent them from switching providers before their contracts are up. Billing itself as the "uncarrier," T-Mobile has no contracts and, more importantly, no fees for early termination. (Since there is no contract it would be pointless, anyway.)
To emphasize the difference, T-Mobile created clever online ads like this one, advising AT&T (NYSE: T) that "Taylor" wants to "break up." Underneath the catchy come-on lies an offer from T-Mobile to pay up to $350 in early termination fees -- as well as up to $300 for a new smartphone or other device, based on the value of equipment turned in.
Related: Will Sprint Move Forward With T-Mobile Deal?
Sprint's response appears to be: "When in Rome …"
In April, Sprint enacted an identical strategy, via which it would pay up to $650 ($350 in ETFs and $300 for the old device) for customers willing to change from their current provider to Sprint.
T-Mobile's disruptive strategies, including doing away with long-term subsidized contracts and buying out ETFs imposed by other carriers, were important because they could well pave the way for more positive treatment by regulators in a Sprint/T-Mobile merger.
Such a move has been touted by Softbank chairman Masayoshi Son, who has said it would help create a competitive third power in what is now a two-party, (Verizon (NYSE: VZ) and AT&T) wireless industry.
Recently at Re/code's Code Conference in Rancho Palos Verdes, California, Son drew both laughter and applause when he said, "I highly admire (T-Mobile chairman) John Legere."
Son went on to criticize slow U.S. Internet speeds, a problem he blamed on lack of competition -- with Comcast (NASDAQ: CMCSA) controlling the cable side and AT&T and Verizon in charge of wireless.
During his remarks, Son said, "At my home in Silicon Valley I say, oh my god. How can America live like this?"
Meanwhile T-Mobile, under the leadership of Legere, has decided to "ramp up" the disrupt by announcing its Un-carrier 5.0 initiative. The event is set to take place June 18 in Los Angeles, according to the International Business Times.
Although few details have emerged, T-Mobile said simply, "We don't play it safe and sound."
At the time of this writing, Jim Probasco had no position in any mentioned securities.
Posted-In: AT&T Comcast John Legere Masayoshi SonNews Events Tech Media Best of Benzinga
View Comments and Join the Discussion!