Google To Add Satellites To Its Global Outreach Efforts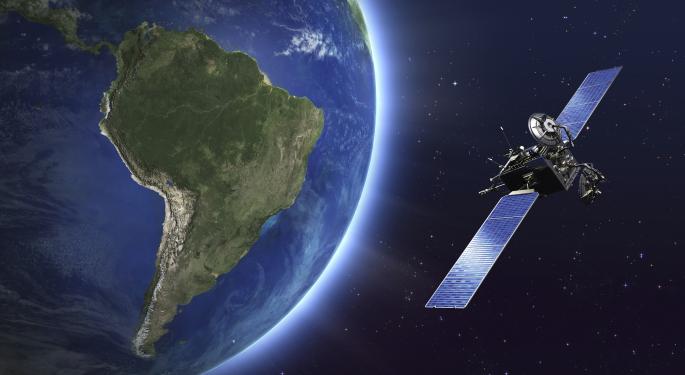 Utilizing an "everything but the kitchen sink" approach, Google (NASDAQ: GOOG)(NASDAQ: GOOGL) is adding a fleet of satellites to its "Internet for everyone" tool bag, according to sources who spoke to The Wall Street Journal.
The latest attempt would be in addition to Google's "Project Loon" which intends to use high altitude balloons to provide broadband service to remote areas. Google has also experimented with the use of drones to provide wide Internet coverage.
Google's drone effort came via Titan Aerospace, a company it acquired this past April that builds solar-powered drones.
Related: Google Joins Netflix In Rating ISP Streaming Quality
According to WSJ sources, Google plans to spend more than $1 billion on the project and if past experience were a guide, the total will likely be much more. Expanding Internet access to vast unwired regions of the planet would initially involve 180 small, high-capacity satellites in low altitude orbit.
Google tabbed Greg Wyler of satellite-communications startup, O3b, to head up Google's satellite venture. The company has also been hiring engineers from Space Systems/Loral LLC according to one source.
Ultimately, Google – like other Internet companies, including Facebook – has been searching for low-cost, high-impact ways to increase Internet usage as a way of growing revenue.
According to Susan Irwin of Irwin Communications, "Google and Facebook are trying to figure out ways of reaching populations that thus far have been unreachable. Wired connectivity only goes so far and wireless cellular networks reach small areas. Satellites can gain much broader access."
It's possible Google's (so far) three-pronged approach – balloons, drones and satellites – would eventually inter-mingle with balloons used initially in some areas, replaced by drones or satellites later, according to Tim Farrar, head of satellite-consulting firm TMF Associates.
CNET noted that Facebook was attempting to match Google's "conquer the Internet world" plan. The social network company also had an interest in acquiring Titan Aerospace, but ultimately lost out to Google.
Facebook has said it wants to bring Internet access to the five billion people worldwide who do not have it. Facebook's efforts have largely been concentrated on spearheading a coalition of mobile tech companies called Internet.org.
If the initial launch of 180 low-orbit satellites proves to be effective, WSJ sources said Google would consider expanding that number in the future.
At the time of this writing, Jim Probasco had no position in any mentioned securities.
View Comments and Join the Discussion!
Posted-In: Facebook Google Project Loon Tim Farrar Titan Aerospace TMF AssociatesRumors Media Best of Benzinga