Update: Ballmer Wins Right To Clippers For Record $2 Billion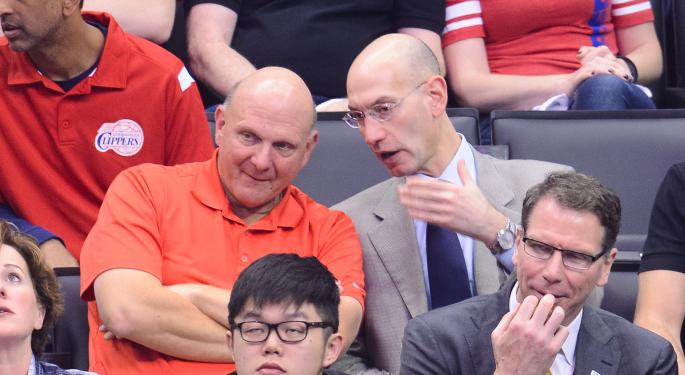 Once the forlorn franchise of the entire NBA, the Los Angeles Clippers have reportedly netted the biggest sale in league history.
The Los Angeles Times first reported that former Microsoft CEO Steve Ballmer has won the bidding war over the Clippers. The deal must receive the approval of the 29 other NBA owners.
The LA Times also said the deal must recive the blessing of Donald Sterling, who recently let his wife and co-owner Shelly Sterling do the bidding.
Numerous names were said to be considered in the bidding, including group led by music mogul David Geffen. The LA Times reported Geffen's bid was for $1.6 billion.
Related: Did You Know There's A College Football Playoff Ticket 'Futures' Market?
As recently as January 2014, Forbes valued the Clippers at $575 million. The New York Knicks topped the list at $1.4 billion. The Milwaukee Bucks were recently sold for a record $550 million, but as Darren Heitner told Benzinga, it's comparing apples to oranges.
"$2 billion is an exorbitant amount of money, even though it's a fraction of Ballmer's net worth," said Heitner, founder and CEO of Dynasty Dealings, LLC, and Professor of Sport Agency Management at Indiana University Bloomington. "The Bucks didn't have a months-long process with the Bucks name in the news."
Heitner said it's a case of supply-and-demand with a premier franchise located in Los Angeles, and "groups of wealthy individuals putting their money where their mouth is."
This is not the first time that Ballmer has been mentioned in NBA circles. He, along with hedge fund manager Chris Hansen, failed in their $625 million bid to buy the Sacramento Kings in 2012
Sports Illustrated Senior Writer Chris Mannix tweeted, "Ballmer group clearly hoping the local TV deal, valued at $20 mill per season, per Forbes, and expires in '15-'16, triples in coming years."
There have been reports, however, that Sterling's lawyers don't expect him to sell the team. An Associated Press source said the decision might not even be final yet.
"This thing isn't done," said Heitner. "It's a drama of exotic proportions. Unbelievable what this has turned into."
Ballmer's $2B bid beats the Geffen/Ellison group by $400M, the Ressler/Karsh group by $800M.

— darren rovell (@darrenrovell) May 29, 2014
If the LA Clippers are worth $2 billion, I'm just going to assume the Dallas Cowboys can buy Apple.

— Jason Gay (@jasonWSJ) May 29, 2014
This was so Made For Twitter MT @byandreachang: Sterling's lawyer just told me, "My belief is he will not sell this team."

— Darren Heitner (@DarrenHeitner) May 29, 2014
Posted-In: comments Darren Heitner Los Angeles Clippers Los Angeles Times MicrosoftNews Offerings Hot Best of Benzinga
View Comments and Join the Discussion!