AutoHarvest Plays Key Role In Ford's Inflatable Seat Belt Licensing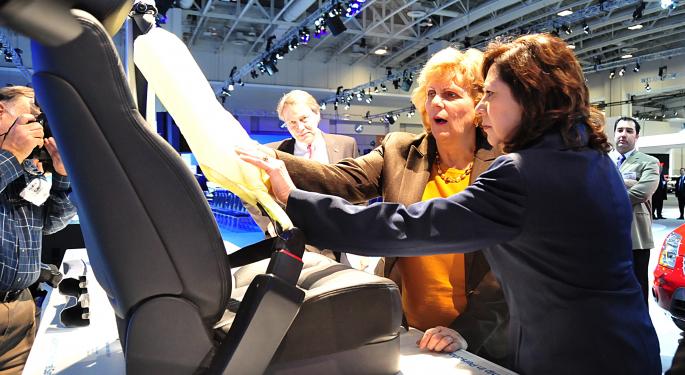 Ford (NYSE: F) has a history of developing and later licensing technology to competitors. For that reason, Ford's decision to offer its patented inflatable seat belts to other companies was not a huge surprise.
What was not so widely known was the role played by an innovative Detroit nonprofit known as the AutoHarvest Foundation. Launched in 2012, AutoHarvest was designed to be a neutral web-based meeting place for innovators, end-users and other interested parties to meet and then privately connect in order to explore opportunities to commercially share advanced manufacturing intellectual property.
Related: AutoHarvest Offers Meeting Place, Collaboration For Intellectual Property
AutoHarvest co-founder, President, and CEO Jayson Pankin told Benzinga that Ford's most recent licensing move started when the company, which he referred to as "enlighted," placed its seat belt technology on AutoHarvest in hopes of expanding protection for two vulnerable groups of back seat riders in vehicles – the very young and the very old.
As a result of that placement, United Technologies (NYSE: UTX), which also held a number of related inflatable safety belt patents, and Ford engaged in discussions that ultimately resulted in Ford's acquisition of those United Technologies patents. This made it possible for Ford to offer broad and comprehensive licensing agreements to others.
Pankin told Benzinga that both Ford and United Technologies saw the societal benefit of making this technology widely available.
Describing both the process and the role of AutoHarvest, Pankin said, "Basically, two giant companies played in our sandbox." He then added, "At the end of the day more people are protected and the biggest winner is society."
According to Pankin, the primary goal of AutoHarvest is to remove "business practice bottlenecks" and facilitate the movement of intellectual property (IP) around faster than would otherwise be the case.
Although the automotive industry has been the primary conduit for AutoHarvest, Pankin pointed out that's because transportation provides a starting point for all manner of related and unrelated IP.
Related: Is Tesla's Elon Musk Channeling Henry Ford?
The AutoHarvest Foundation, a 501(c) 3 nonprofit wants to facilitate democratic commercial sharing of technology between and among its members. As a nonprofit, the foundation is able to secure the trust of partners in industry, government and academia.
The organization must be doing something right.
The AutoHarvest interest group consists of more than 250 organizations and the foundation was recently awarded a multi-year grant by the New Economy Initiative Foundation of Southeast Michigan.
Members of AutoHarvest include Chrysler, Delphi, Ford, General Motors and Visteon. Cooperation and additional support has come from the U.S. Department of Defense as well as the United States Patent and Trademark Office, which signed a memorandum of understanding providing for the sharing of patent data with AutoHarvest members.
Pankin emphasized the importance of continuing to grow a wide-ranging membership and broad participation, saying the AutoHarvest website meeting place was designed for interaction between many types of interested parties – from decision-making innovators at large corporations like Ford, to grass roots inventors - or as Pankin likes to say, "Two guys and a dog in a garage."
At the time of this writing, Jim Probasco had no position in any mentioned securities.
Posted-In: AutoHarvest Foundation Chrysler comments Delphi Detroit FordTop Stories Tech Best of Benzinga
View Comments and Join the Discussion!