Turney Duff, Author Of 'The Buy Side' Talks Insider Trading, Galleon Group & The White House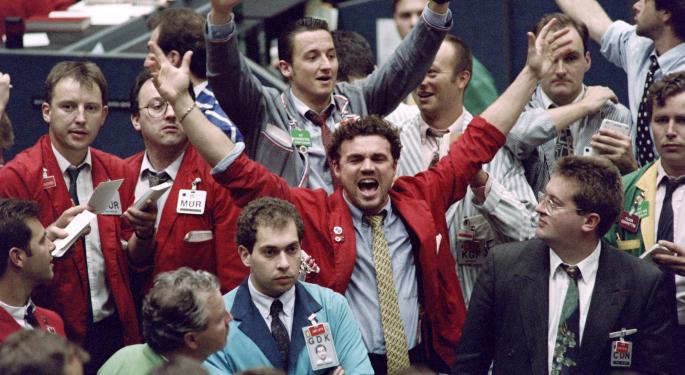 Turney Duff is the author of the New York Times bestseller The Buy Side: A Wall Street Trader's Tale of Spectacular Excess.
Recently, Sony Pictures purchased the rights to develop the book in to a TV show or movie.
Duff was a special guest on Benzinga's #PreMarket Prep show on May 23 to talk about his experience working with Galleon Group and the underground world of "booze, drugs and women" that was rampant on Wall Street.
Duff began his career as a sales assistant at Morgan Stanley in 1994 after visiting a Lehman Brothers trading floor. "I didn't know what was going on, but I knew I wanted in," Duff thought to himself despite holding only a major in journalism.
After five years at Morgan Stanley, Duff was recruited to work at a hedge fund called Galleaon Group. Through Duff's own admission, he was unsure at the time what a hedge fund was and how it would differ from his prior work experience.
Galleon Group, at the time, was one of the world's largest hedge funds founded by Raj Rajaratnam who was found guilty and sentenced to 11 years of prison in 2011 for insider trading and securities fraud.
See also: Ronnie Moas on Blacklisted Stocks
Duff equates the period of the late 1990s and early 2000s to the rampant use of steroids by Major League Baseball players.
"That period, the early 2000s, it was kind of the Wild West," Duff explained. "We didn't feel there were any consequences."
Just like Barry Bonds transformed from a trim 185 pounds to a bloated 230 pound slugger, Galleon Group transformed from holding $500 to $600 million in assets under management to managing $2 billion just two years later.
Duff, however, said he was one of the "good guys."
"I just sort of played good cop on a desk that had five or six bad cops," Duff admitted. "I just found good, smart people, who can prolong my career."
Moving on, Duff was asked to share his experience and knowledge of the market. The first topic on hand is of great interest for traders; technical analysis.
Duff said that for some traders or analysts, technical analysis would take up around 30 percent of the "thought process." For Duff, technical analysis holds very little merit and ranks as number nine or ten on a checklist of reasons before making a trade.
"I worked with a guy at Galleon who literary - that is the only way he traded. He just had levels so he would have 50 to 60 orders out there at a time, and if they hit his levels he would either be buying or selling. Every guy is different."
Duff looks at many indicators in the market, but none are greater than fellow traders and investors.
Duff recounted the story of a bio-tech analyst who had a low threshold for losses. The analyst would constantly panic when a stock is trading lower on no fundamental news.
"I knew from just working with her over the years, that her threshold for pain was a buy signal."
Humorously, Duff recounted of a co-worker who was always wrong. Naturally, a profitable strategy in this case for Duff was to just take the complete opposite of the trade that the co-worker suggested.
See also: Doug Kass - 7 Important Bubbles In Our Current Market
Duff explained that some people tend to make the same mistakes. These mistakes, naturally, were used for Duff's benefit.
The conversation shifted back to Duff's work experience, specifically his time spent at "The White House."
The White House was a nickname for an apartment in Manhattan's East Side where buy-side traders and analysts like himself would drop by and enjoy "the drugs, the booze, and the women" provided by sell-side workers that need to "suck up."
"Today I might not be the head of the desk or control most of Galleon's order flow, but it's in heir best interest to befriend me early in my career," Duff wrote in his book, referring to the White House. "Take care of me now, and I'll remember you later."
Some of those establishments still exist across Wall Street, Duff said before adding that he is now sober for four and a half years after frequenting these establishments throughout his career.
Duff ended the very interesting conversation by offering his opinion on Michael Lewis' book and allegations that the stock market is rigged in favor of high frequency traders.
Duff believes that "rigged" may not be the most appropriate term, even though some market participants indeed "have their hand in the cookie jar."
"Saying the market is rigged I think is going a little too far."
View Comments and Join the Discussion!
Posted-In: #PreMarket Prep Galleaon Group Lehman Brothers Michael Lewis Morgan StanleyTop Stories Pre-Market Outlook Interview Best of Benzinga