Is Google About To Up The 'Smart Home' Ante By Acquiring Dropcam?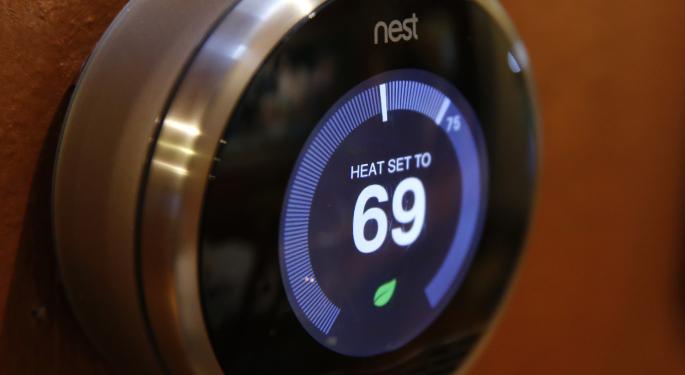 With Apple (NASDAQ: AAPL) apparently set to unveil its 'smart home' software platform, Google's (NASDAQ: GOOG)(NASDAQ: GOOGL) Nest division may be considering a move into home security of its own, according to The Information. Google sources told the website that the company was considering acquiring Internet-connected camera-maker Dropcam.
Neither Google nor Dropcam responded to The Information's requests for comment, but given the competition among tech companies to connect everything electronic to the Internet, such a move was not surprising.
Apple's upcoming 'smart home' system, reported by The Financial Times, would allow users control of lights, heating and air conditioning, security and more from iPhones and iPads. The Financial Times noted that adding interconnected device control of home appliances and systems would lead to increased sales for Apple, especially if manufacturers scurry to get their smart home products Apple certified, as expected.
Related: Google: 'We Don't Charge For Peering Or Fast Lanes'
Google already owns Nest, covering high-tech control of thermostats and smoke alarms. Adding Dropcam would provide the company with access to hardware that would make it a player in smartphone-controlled home security.
Dropcam produces a cloud-based Wi-Fi video monitoring device that includes free live streaming, two-way communication and viewing from a remote location. Recently added to the arsenal were improved video analysis, people-detection technology and motion detecting Tabs that could be placed in areas where a camera wasn't practical.
According to The Verge, expanding into home security made sense for Google's Nest division since that division's main goal was to expand the use of technology in homes. Nest CEO Tony Fadell told The Verge last year, "Safety shouldn't be annoying. We're about reinventing unloved categories."
Kleiner Perkins' Trae Vassallo noted, "Dropcam can do for surveillance cameras what Nest did for the thermostat."
The potential battle for the Internet-connected home segment could signal the next big push in technology. Fox Business said as much in January when it reported that the 'smart home' market was set to explode. The impetus at that time was Google's $3.2 billion Nest buy.
In addition to a long list of 'smart home' startups, Fox noted the growing involvement of companies like Honeywell and Microsoft in the connected home space.
One potential problem with all this new technology could revolve around consumer ignorance, according to Fox. Educating the public would have to be a top priority.
In addition, Jeremy Warren, VP of Innovation at home automation services company Vivint, said, "The industry needs to take a deeper look to determine how the technology is actually going to make peoples' lives easier."
At the time of this writing, Jim Probasco had no position in any mentioned securities.
Posted-In: Apple Google honeywell iPad iPhone Kleiner PerkinsRumors Tech Best of Benzinga
View Comments and Join the Discussion!