Is Surface Pro 3 Too Expensive?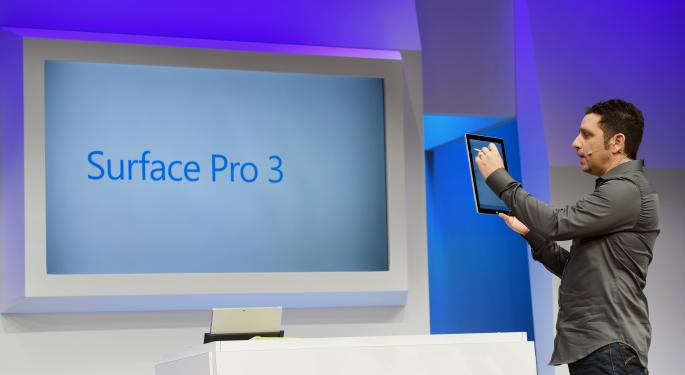 Microsoft's (NASDAQ: MSFT) new tablet offers a host of groundbreaking features.
From the Surface Pen (which, in addition to its impressive sensitivity, allows users to "click" it for instant access to OneNote -- even if the device is off) to the 12-inch ClearType Full HD display, Surface Pro 3 is one tantalizing tablet.
Unfortunately, it comes with a hefty price tag.
Surface Pro 3 starts at $799. At that price, the tablet comes with 4GB of RAM, 64GB of storage and an Intel i3 processor. The introductory i5 model (4GB RAM, 128GB storage) starts at $999. Customers will pay an additional $300 if they want to double the RAM and storage.
Be prepared to hand over $1,549 (8GB RAM, 256GB storage) or $1,949 (8GB RAM, 512GB storage) for the i7 models.
Related: Will 12-Inch Tablets Reign Supreme?
What Do Consumers Want?
These prices may be in line with Apple's premium pricing structure, but they are higher than the average Windows 8 PC. Granted, those machines don't come with any of the innovative technology that can be found within the Surface Pro 3. But is that tech enough to make consumers pay more?
"It sort of depends on what the end user wants,"'s at IHS (NYSE: IHS), told Benzinga.
"What do they value the most? Do they [want] a wicked-fast core and bells and whistles in that direction? Or do they find that what they have with the processor and everything they offer here is certainly plenty to meet their needs, and the allure to have touch and other things that go along with having a tablet make it appealing from that regard?"
Alexander said that the answer will "vary tremendously" from user to user.
"I think what it does is just put another alternative out there for the user," she said. "When you look at it from Microsoft's perspective, and where they've been focused is on the tablet -- what it does for them is expand their product family."
Will The "Family" Get Any Bigger?
Alexander said that IHS has "certainly seen the signs of a 7.5-inch [Surface] coming in the future."
She was not surprised by its omission this week, however.
Related: Xbox One Price Cut Will 'Split The Market' Between Microsoft And Sony
"But very little surprises me in this industry anymore," said Alexander. "We looked at it from a supply standpoint, and we had seen the possibility that they could release one or both of these products. We had seen the supply activity associated with both of them. To see them decide to do one of them, that's not truly surprising."
Product Differentiation
If Microsoft decides to release a seven-inch device, Alexander believes that the company will really stress the tablet's portability.
"If you look at where seven inches is going across the media tablet space, it's portability -- it's something you can slip in a pocket," she said. "It's easy to transport, it's something to have on your coffee table, to have wherever you're going to have it -- make it a go-to device."
"It's got a big enough screen on it to get things done, but that portability and lightness to make it easier to transport with you. So I think when you go with a seven inch, if [Microsoft comes] out with a seven-inch product, you go with a more mobile focus."
Disclosure: At the time of this writing, Louis Bedigian had no position in the equities mentioned in this report.
Posted-In: Apple comments IHS Microsoft Rhoda Alexander Surface Pro 3Tech Best of Benzinga
View Comments and Join the Discussion!