Where Will 3D Printing Be In 20 Years?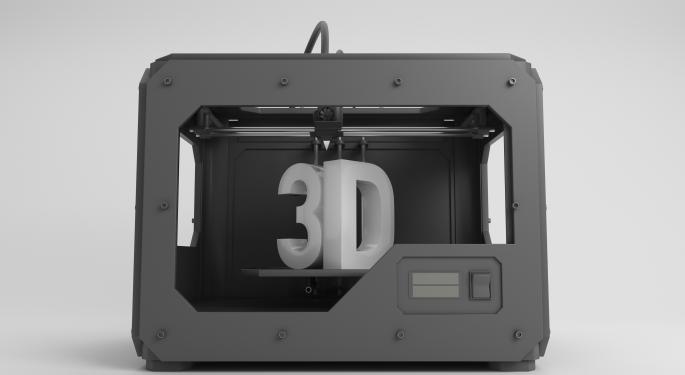 Three-dimensional printers will eventually change the world, but most of those groundbreaking changes won't occur overnight.
Knowing that evolution takes time, Benzinga recently asked Gary Anderson, the founder of 3DPrintingStocks.com, what he expects to see in the next five or 10 years.
"I think most of the growth in terms of global revenue production will remain at the industrial level for the next three to five years," he said, "with widespread consumer adoption happening in five to 10 years."
"This is based on my expectations for technologic 'leaps' in the space," he added. "We are on the verge of industrial level manufacturing capabilities now, but there's more work to be done at the consumer level to create appeal beyond the 'early adopter geeks' like myself and hobbyists."
Related: What Are The Two Most Exciting 3D Printing Stocks?
In 20 years, 3D printing could be an essential component for at least one major manufacturer.
"In 20 years General Electric (NYSE: GE) says that 3D printing will be utilized in 'more than half' of their manufacturing in some way," said Anderson, citing a report from the World Industrial Reporter. "That's quite a statement coming from one of the world's largest industrial conglomerates."
A New Supply Chain
Anderson also believes that, in 20 years, the supply chain will be "completely different from what we now have."
"More goods will be manufactured at or close to their point of purchase or consumption," Anderson predicted. "'Just in time manufacturing' will have more substance with no need for product storage and potentially no need for product delivery to the customer who can print from an online file. 'Shopping at home' will also mean 'manufacturing at home' if some of the predictions by futurists come to pass."
"It really is exciting, game-changing, and even a 'revolution' when you think about it. That said, it's not going to happen today or tomorrow and I think investors (and the media) are realizing that now."
Frivolous Fun
But before consumers can print their own frivolous items (such as toys) quickly and cheaply, Anderson said that 3D printers must:
Be affordable (under $1,000).
Have the ability to print in multi-materials -- plastics, ceramic, glass, metals, etc.
Be able to print in a very large color palette.
Provide faster printing speeds, three to five times faster than what is currently available.
Offer true plug-and-play functionality -- no 'how to' manuals needed.
Have the ability to print multi-materials with no finishing or post-printing work.
Anderson thinks that 3D printers will get there, "But not as soon as many expect."
"Right now there's still a learning curve for 3D printers," he added. "The truth is, they can be finicky, temperamental little buggers and they aren't very fast. To 3D print a chess set takes many hours, not minutes."
Disclosure: At the time of this writing, Louis Bedigian had no position in the equities mentioned in this report.
View Comments and Join the Discussion!
Posted-In: 3D Printing 3D printing industry 3dPrintingStocks.com Gary Anderson General ElectricHot Tech Interview Best of Benzinga