Samsung Looking To Iris Detection For Future Of Mobile Security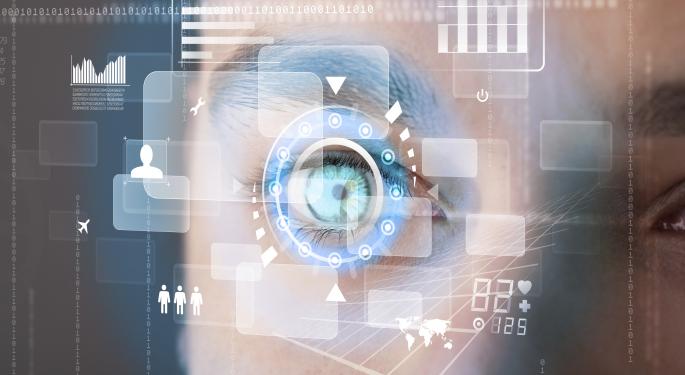 According to Senior Vice President Rhee In-jong, Samsung (OTC: SSNLF) wants to increase its use of biometrics. One form of biometrics getting an intense look is "iris detection."
Iris detection would allow a smartphone to scan a user's eyes to determine whether that person is a match for biometric data the device holds.
According to CNET, Rhee, who spoke to analysts and investors at a forum Monday, stated that iris detection was the next frontier in biometric technology. He said he believed that the technology would come first to high-end devices followed later by lower-end products.
Rhee did not indicate when he thought iris detection might come to Samsung devices.
Related: Samsung Tablets Have Overtaken Kindle
So far, the most prevalent form of biometrics for tech companies like Samsung and Apple (NASDAQ: AAPL) has been the fingerprint scanner. Samsung's Galaxy S5 came out with a fingerprint scanner as part of its security package about seven months after Apple's introduction of a fingerprint reader in its iPhone 5S last April.
At the forum, Rhee said, "We, as a market leader, are following the market trend."
A major reason for wanting to develop solid, secure biometric security is enterprise. The Wall Street Journal reported that Samsung has struggled to secure enterprise acceptance of its mobile devices. Samsung hopes to overcome this problem with the launch of its Knox business-focused security platform.
Biometrics could play an important role in encouraging companies to adopt Samsung devices equipped with Knox.
Rhee said there are 87 million devices embedded with Knox. Only about 1.8 million devices actively use Knox, however. This includes highly regulated industries like banks, health care and financial institutions – the very companies Samsung hopes to attract.
Samsung believes that if enough highly regulated industries adopt Knox, use will "trickle down" to other segments of enterprise. Rhee did not disclose how many paid Knox adopters Samsung had so far.
Earlier this year, cyber security experts at Israel's Ben-Gurion University reported that Samsung's Knox system had a security gap. After conducting its own study, Samsung said the potential flaw was not specific to Samsung devices.
Iris detection is widely considered more secure than fingerprint detection. For that reason, Samsung and others hope to perfect that system for use in its mobile devices as soon as possible.
Meanwhile, Samsung said it would expand the use of its available fingerprint scanning technology to other devices in the lineup, including budget smartphones as part of an overall move to sell itself as a secure mobile platform provider.
At the time of this writing, Jim Probasco had no position in any mentioned securities.
Posted-In: Apple biometrics Galaxy S5 iPhone 5S KNOXWall Street Journal Tech Media Best of Benzinga
View Comments and Join the Discussion!